China Outbound Travel & Tourism Market (COTTM) successfully held its 6th edition of the annual trade show in the World Trade Centre of Beijing, China.
China Outbound Travel & Tourism Market (COTTM), has been the only travel exhibition dedicated 100% to outbound travel from China and 100% B2B event in China successfully concluded its 6th edition today in the World Trade Centre of Beijing, China. This year, COTTM welcomed 55 different countries and destinations including regional and national pavilions such as the Caribbean, Bhutan, Croatia, as well as Tanzania etc. to the exhibition.
| | |
| --- | --- |
| | |
| The opening ceremony of COTTM was attended by senior officials and key outbound travel decision makers as well as foreign dignitaries and exhibitors | Mr. David Shields, Deputy Director of Jamaica Tourist Board; Mr. Colin James, CEO of Antigua and Barbuda Tourism Authority; Mr. Ernest Littles, President & Director of Tourism of Trinidad & Tobago; Mr. Chen Yueliang,Vice President of CITS Head Office; Vice President of CTS Holdings; Dr. Adam Wu, COO of China Business Network; Prof. Dr Wolfgang Georg Alt, Director of China Outbound Research Institute at the Opening Ceremony of COTTM 2010 |

Over 3,000 Chinese travel trade professionals convened at COTTM to meet exhibitors from all over the world, to source new products and destinations for the rapidly expanding Chinese outbound travel market.
| | |
| --- | --- |
| | |
| Hosted buyers and other trade visitors lined up to pick up their entry badges to the COTTM | The Caribbean pavilion and CBN stand attracted many Chinese tour operators – move to the right side |

Matt Thompson, Project Director for COTTM said "COTTM proved to be the most important platform for foreign exhibitors to communicate to Chinese outbound travel trade about their destinations as well as travel products and services while providing the Chinese buyers with the unique opportunity to identify new destinations and to find new suppliers. "

China Business Network (CBN) and World Travel Online (WTO) served as the partner of COTTM and responsible for recruiting over 360 Hosted Buyers from all around China coming to attend the COTTM. At the same time supported many foreign exhibitors such as the Caribbean Pavilion, Ethiopia Ministry of Tourism, Jamaica Tourist Board, Ghana Tourist Board, Galicia Tourist Board , Gulf Dune and Ream Travel, Tanzania National Parks and Ngorongoro Conservation Area Authority, was well promoted and received great attention from Chinese tour operators.
| | |
| --- | --- |
| | |
| Dr. Fulford, Mr Higgs and Dr. Wu in front of Turks & Caicos stand at COTTM | The beautiful pavilion of Jamaica Tourist Board with Usain Bolt being the focus |
| | |
| Mr. Ernest Littles, President and director of Tourism TDC and Mr Brian Awang (right 2), Chairman of TDC talked to many interested Chinese tour operators | The stand of Antigua and Barbuda Tourism Authority was very popular during the fair |

The popular CTW (Chinese Tourists Welcoming) Awards, was held in association with China Outbound Travel Research Institute(COTRI), which recognizes the excellent services and products provided for the growing outbound Chinese market. CBN Travel and MICE received the Gold Award for the third time. Many of the clients supported by CBN also received CTW Awards such as Aberdare Safari Lodges, Baltic & Balkan Group and Roman Baths which experienced five folds increase of Chinese visitors since they were prepared for the Chinese visitors with Chinese web site i.e. http://lvyou168.cn/travel/uk/romanbaths and audio guide.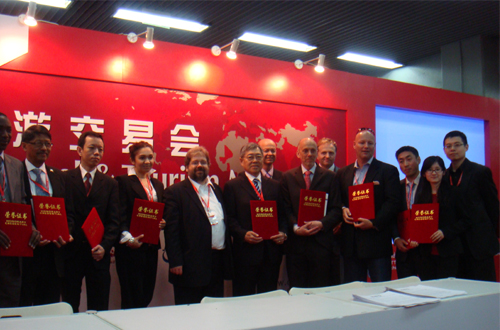 CTW Awards winners took photos together at COTTM - Mr. Shan Ding (Right 3), Operations Director of CBN Travel & MICE

Prof. Dr Wolfgang Georg Alt commented, "the purpose of CTW Awards to recognise those destinations and travel suppliers for their dedication to providing high quality services to Chinese visitors. Indeed, the winners deserve such recognition which should also help Chinese outbound tour operators to have more confidence in sending more Chinese visitors to those destinations and working with such suppliers".

The next COTTM will take place during Apr. 13 - 15, 2011 which will welcome more Chinese outbound tour operators and corporate travel organisers to meet with more exhibitors from overseas.