Xi holds talks with Pakistani president to deepen ties amid fight against COVID-19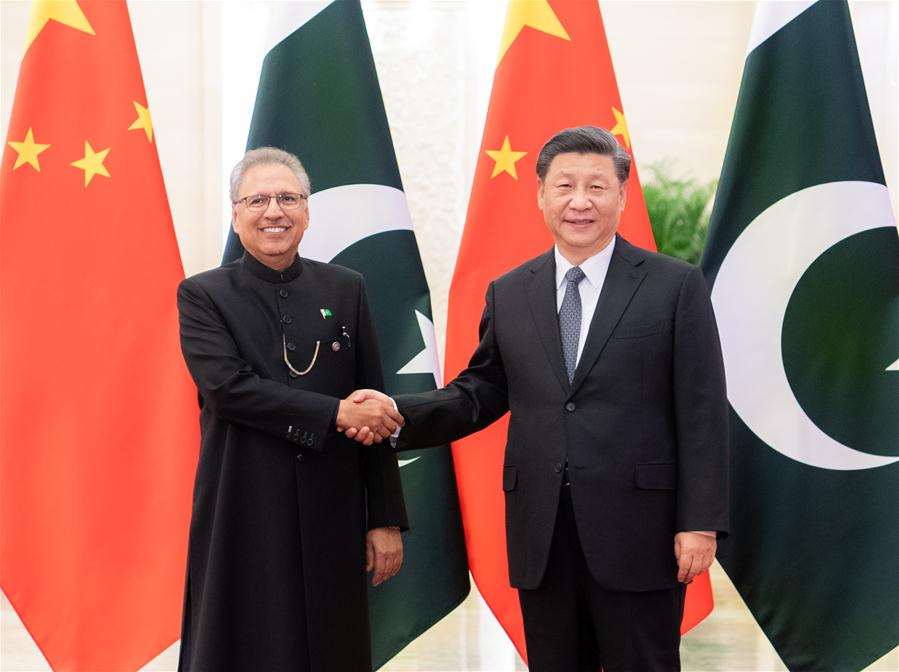 Chinese President Xi Jinping holds talks with Pakistani President Arif Alvi at the Great Hall of the People in Beijing, capital of China, March 17, 2020. / Xinhua
Chinese President Xi Jinping held talks here on Tuesday with visiting Pakistani President Arif Alvi.

Xi praised Pakistan's support for China, noting that at the beginning of the epidemic, President Alvi wrote him a letter to convey consolation, and Alvi's latest trip marks his firm support. The Pakistani side also offered everything within their capabilities to provide China with anti-epidemic materials.

"China is deeply grateful for Pakistan's support. Facts have proved once again that China and Pakistan are true friends who share weal and woe and good brothers who share each other's joys and sorrows. The special friendship is a historical choice, and is deeply rooted in the hearts of the two peoples," said Xi.

The epidemic is currently erupting at different places around the world. Countries should work together to fight the epidemic, said Xi.

"China is willing to make more contributions to preventing the spread of the epidemic worldwide, and will continue to provide support and assistance to Pakistan," said Xi, adding that China always adheres to the concept of building a community with a shared future for humanity.

"No matter how the international situation changes, China will always stand firmly with Pakistan, and is committed to deepening the ironclad China-Pakistan friendship, so as to make China-Pakistan relations a model for building a community with a shared future for humanity, and better benefit the two peoples," Xi said, adding that China is glad to see a Pakistan of unity, stability, prosperity and strength.

He called on the two sides to maintain exchanges of visits and meetings between leaders, promote cooperation in key areas and projects, and build the China-Pakistan Economic Corridor into a model of high-quality development within the Belt and Road cooperation. He also urged strengthening communication and cooperation in international and regional affairs.

Pakistan and China are ironclad brothers who can go through thick and thin together, said Alvi, stressing that the two peoples feel deep amity toward each other and the bilateral friendship becomes even firmer as time goes by.

The more difficulties there are, the more the friendship and solidarity between Pakistan and China can be displayed, said Alvi, noting the Pakistani side thanks China for its assistance and will stand with China to overcome current difficulties.