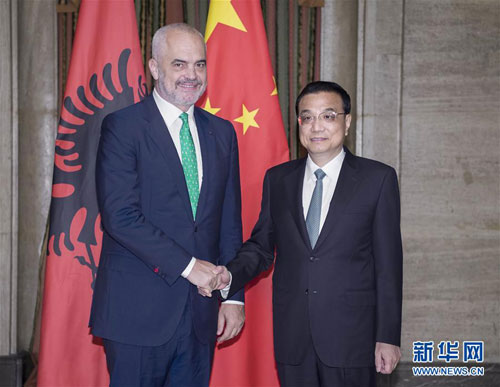 Chinese Premier Li Keqiang said that China stands ready to work with Albania to accelerate the alignment of their development strategies and lift bilateral ties to a new level.
He made the remarks while meeting with Albanian Prime Minister Edi Rama on July 6. Both leaders are in the Bulgarian capital to attend the seventh leaders' meeting of China and 16 Central and Eastern European countries.
Premier Li hailed the good development momentum in the relations and practical cooperation between China and Albania, which will celebrate the 70th anniversary of their diplomatic ties next year.
China, he said, is ready to deepen practical cooperation with Albania on the basis of mutual respect and equality, and import more quality and specialty agricultural products from the latter.
He added that China will work with Albania to build an agricultural mechanization cooperation demonstration center in the European country, and enhance cooperation in water resources utilization and disaster prevention.
The Premier also called for joint efforts to deepen exchanges in culture and education and among young people, and expressed China's readiness to encourage competitive Chinese businesses to invest in Albania for win-win results.
Rama said the two countries enjoy broad cooperation prospects, and Albania looks forward to working together with China to further implement bilateral consensus on cooperation and deepen collaboration in such areas as agriculture, agricultural mechanization, energy, water resources and ports.
He also vowed to work with China to make a success of the 70th anniversary celebrations next year, and step up communication and coordination within the 16+1 framework.