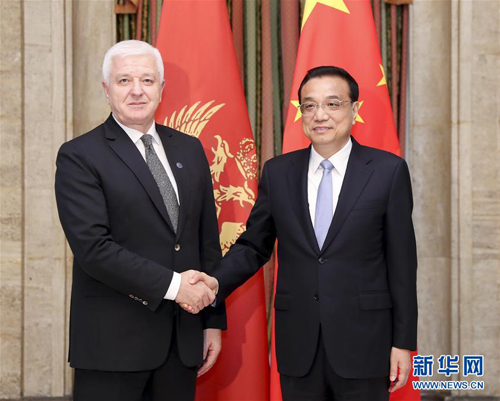 Premier Li Keqiang met with his counterpart from Montenegro, Dusko Markovic on July 7. The two sides pledged to strengthen bilateral cooperation.
China and Montenegro have deepened their friendship in recent years and achieved encouraging progress in their pragmatic cooperation, Premier Li said.
China is willing to work with Montenegro to further tap cooperation potential and promote substantial and concrete outcomes in bilateral cooperation, he added.
The Premier pointed out that Montenegro's north-south highway is a flagship project of pragmatic cooperation between the two countries, adding that he hopes the two sides can meet each other half way and speed up its construction so as to set an example for the two country's major cooperation projects.
China is willing to discuss with Montenegro on third-party cooperation and foster new highlights in bilateral cooperation, Premier Li said.
China supports competitive Chinese companies to invest in Montenegro, and encourage Chinese tourists to visit Montenegro, the Premier added.
Markovic said that the development of Montenegro-China relations enjoys sound momentum with solid political mutual trust and ever deepening economic cooperation.
He stressed that Montenegro has benefited a lot from 16+1 cooperation.
Montenegro is willing to continue strengthening cooperation with China in infrastructure construction such as highways and hydropower stations as well as in tourism, and to discuss third-party cooperation for the benefits of the two peoples, Markovic said.