China's resumption of outbound group tours after the optimization of its COVID-19 response will be a strong boost to the global tourism industry and a boon for the world, especially for economies that are dependent on tourism.

On Monday, China resumed outbound group travel to 20 countries, such as Thailand, Indonesia, Cambodia, Maldives, Sri Lanka, Philippines, Malaysia, Singapore, Laos, UAE, Egypt, Kenya, South Africa, Russia, Switzerland, Hungary, New Zealand, Fiji, Cuba and Argentina. Group tours between the Chinese mainland and the Hong Kong and Macao special administrative regions also resumed.

The move came after the country downgraded its management of COVID-19 from Class A to Class B on January 8. Resuming outbound travel is one of the measures in China's COVID-19 response adjustment.

It has been three years since the country suspended outbound group tours -- the major form of travel for outbound tourists. The rebooting of the services is undoubtedly part of the certainty and momentum that the world's second-largest economy is contributing to a world faced with uncertainties and bleak growth prospects this year.

Before the pandemic, China was the world's biggest outbound travel market. Its total number of outbound tourist trips was 155 million in 2019. According to the World Tourism Organization, China's total expenditure on outbound tourism hit 277 billion U.S. dollars in 2018.

Countries like Thailand, Cambodia and the United Arab Emirates welcomed the first tour groups from China in three years on Monday. Chinese tourists used to account for about a quarter of all arrivals in Thailand, which aims to receive 7 million Chinese tourists this year.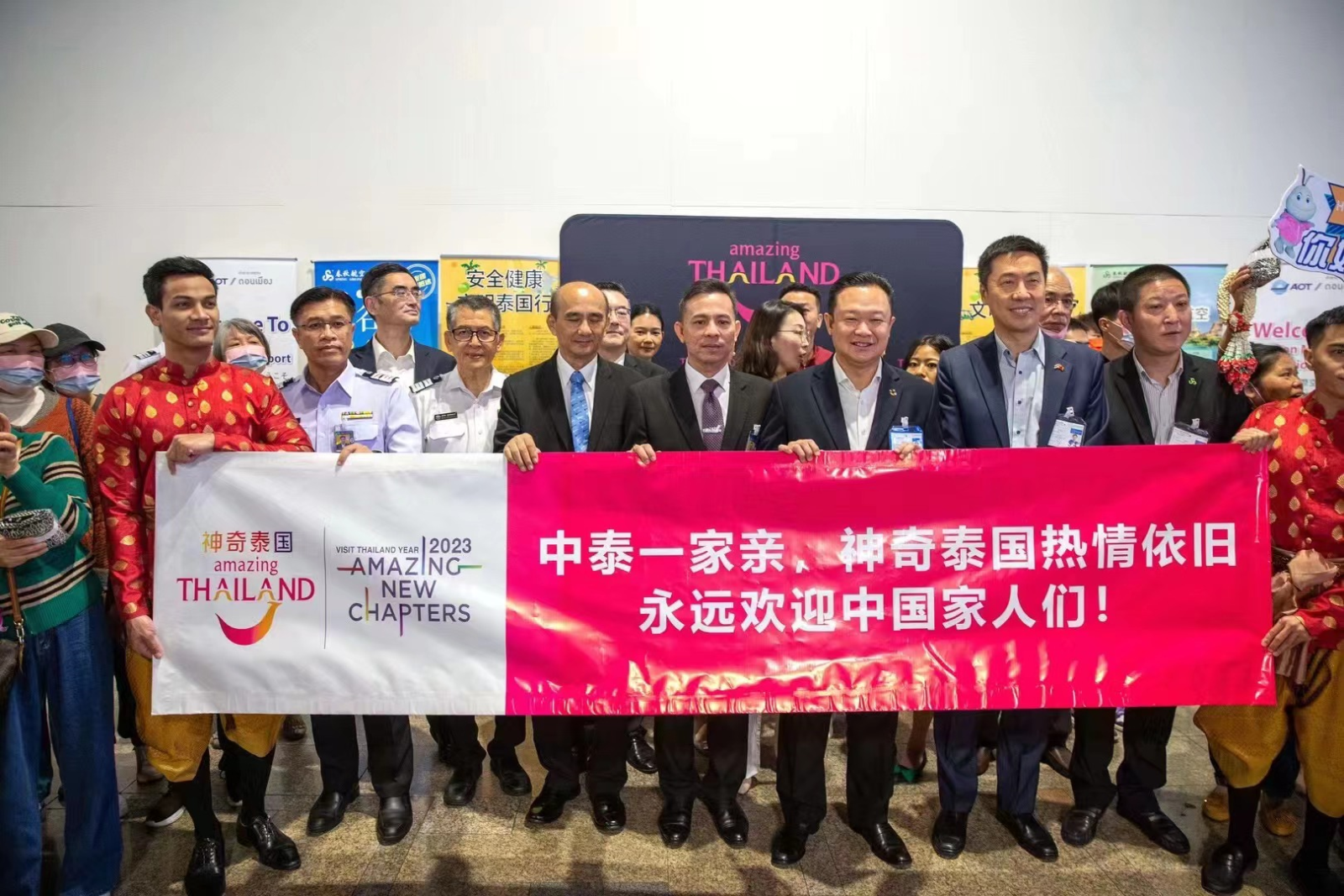 Tourism Authority of Thailand and the Chinese Embassy in Thailand welcome the first Chinese groups since China's reopening
Source: Chinese Embassy in Thailand
During the Spring Festival holiday from January 21 to 27, China saw nearly 2.9 million cross-border trips, up 120.5 percent year on year, and 308 million domestic trips, up 23.1 percent and back to 88.6 percent of the 2019 level for the same period.

The World Tourism Organization forecast that international tourist arrivals could reach 80 percent to 95 percent of pre-pandemic levels in 2023 (versus 63 percent in 2022), despite lingering global headwinds.

With the gradual and orderly recovery of outbound tourism, more countries are expected to receive tour groups from China.

Over the past three years, China's average growth rate was 4.5 percent, far higher than the global average of 1.8 percent. The resumption of group tours shows that in the new phase of its COVID-19 response, China will strengthen people-to-people and economic exchanges with other countries, and inject more confidence and strength into global economic recovery.