Supported by Chinese Ministry of Culture and the Government of Tianjin City,
2016 Joyful Chinese New Year Concert
as a grand finale performance successfully held in London at Central Hall Westminster on February 27th. With the strong lineup, China National Orchestra Tianjin with its top Chinese musicians presented the excellent Chinese national charm by perfect performance.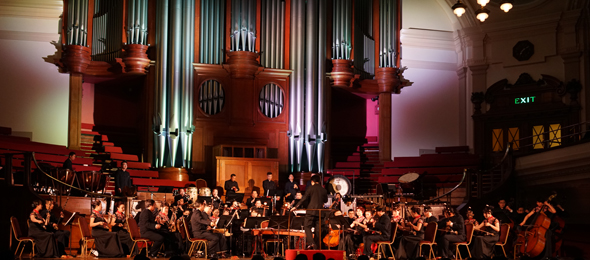 The concert was proceeded by an evening reception for invited VIP guests and media where Minister Counselor of Chinese Embassy to the UK Mr Xiang Xiaowei conveyed congratulation message from the H.E Ambassador Liu Xiaoming of China.

The British Secretary of State for Culture, Media and Sport Rt Hon John Whittingdale OBE MP sent his best wishes "I am delighted that this Chinese New Year Concert is being performed by the China National Orchestra Tianjin to celebrate the beginning of the Year of the Monkey".

On behalf of City of London Alderman John Garbutt welcomed the Delegation from Tianjin led by Ms Song Qi and the President of China National Orchestra Tianjin, Mr Gao Jiulin. Alderman John Garbutt was very happy to enjoy the authentic Chinese national music and said:" The China National Orchestra's New Year Concert is an excellent way to celebrate this growing relationship and is a valuable addition to London's cultural calendar."

The officials from the department for Culture, Media and Sport, delegates from Chinese and British organizations and seniors from all sectors in UK attended the evening reception and enjoyed the concert together.
| | |
| --- | --- |
| | |
| Conductor: Dong Junjie | Erhu Performer: Yu Hongmei |

Started with the Chinese traditional orchestra suite namely "Prosperity Year after Year" with full of festive atmosphere, the concert conducted a series of pleasant classical compositions followed, including Chinese traditional orchestra "a Wonderful Evening", Zhongruan concerto "Yunnan in Memories", Bamboo clappers with the orchestra "Joy of Harvest", Chinese traditional orchestra "Culture of The Peking Operatic Circle", Suona with the orchestra "Family Photo" and Erhu with the orchestra "The Great Wall Capriccio" etc. The audience were treated with real feast of Chinese traditional music.
| | |
| --- | --- |
| | |
| Bamboo Clappers Performer: Li Shaojie | Zhongruan Performer: Shen Ting |

Bamboo clappers "Joy of Harvest" is one of the popular music by the audience. This piece uses Tianjin-style Bamboo Clappers' rhythm as the solo and team playing. The crisp sound of Bamboo clappers is like firecrackers popping off, delivering the joy of harvest, receiving thunderous applause!

Mr Jonathan Kuhles, Music Director of Royal Philharmonic Orchestra: "It is an amazing concert for us to know some Chinese musical instruments and performance. I hope we could combine the Chinese music with our western music in the future. "

Mr. Paul Southern, Managing Director of Central Hall Westminster mentioned: "It's our honor to held this high quality Chinese performance at Central Hall Westminster, bringing the fantastic feast of Chinese traditional music to audience."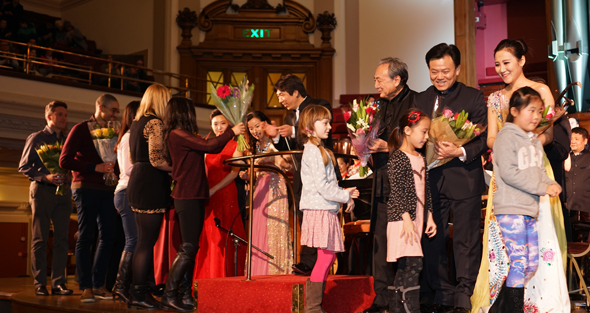 Founded in 1953, China National Orchestra has become one of the top Orchestra in China. It has been invited to perform in more than 30 countries all over the world as a Culture Ambassor such as Korea, America, Germany, Belgium, Spain and Australia etc. What worth mentioning is, during the Spring Festival period in the year of 2005,China National Orchestra held 8 Chinese New Year concerts in Austria and Germany which achieved massive success.

The performance by China National Orchestra Tianjin in London is part of the special Theme of Joyful Spring Festival dedicated by the Chinese Ministry of Culture to showcase Chinese traditional music during Chinese New Year throughout the world. The "Joyful Spring Festival" Chinese New Year concert is organized by Zhang's Producer, China Tourism Economy & Culture Industry Academy and China Business Network.