After the successful event last year, the second South American Roadshow with extension to seven countries kicked off in Guangzhou on 22th October. More than 160 tourism professionals and Medias attended.
With the great support of
China Business Network
(CBN) and
World Travel Online
, 2012 South American Roadshow jointly organized by
Argentina INPROTUR
, Embratur,
Turismo Chile
,
Proexport Colombia
, Ministerio De Turismo De Uruguay,
INATUR Venezuela
kicked off in Guangzhou on 22th October. Accompanied with 15 local incoming providers, ambassadors, consular officials and representatives of tourism boards presented themselves on the scene. This event covered seven countries of South America, which attracted over 160 travel trade professionals and Medias in Guangzhou.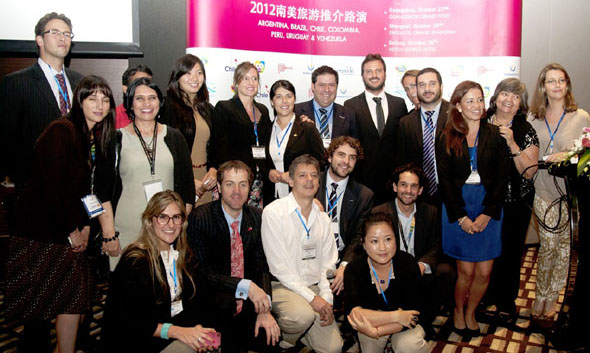 The representatives of South American countries
Consul General for Chile Republic Mr. Miguel Poklepovic, representing all the South American countries having Consulates here in Guangzhou made a speech. He was confident that economic and trade prospects between China and Chile are bright.

Consul General for Chile Republic
Mr. Miguel Poklepovic
INPROTUR
Mr. Mariano Vila
Embratur
Mr. Marcus Sasse
Chile Tourism Board
Ms. Carolina Valenzuela

Mr. Mariano Vila, from INPROTUR, said that, "Over 25,000 Chinese tourists visited Argentina last year, with the average amount spent about $8000. It is predicted that the total number of outbound visitors from China to Argentina may reach 100,000 by 2015, which has great significance to Argentina's tourism." Mr. Julio Ferrari Freyre, Consul General for Argentine Republic, also attended this event.
As the host country of 2013 FIFA, 2014 World Cup and 2016 Olympic Games, Brazil undoubtedly becomes one of the most popular tourism destinations for Chinese visitors. Mr. Marcus Sasse from Embratur introduced that "In 2011, the number of Chinese visitors came to Brazil significantly increased by 47.9%."

Following the tourism promotion made by Chile, there is a significant increase in high-end Chinese visitors to Chile. Ms. Carolina Valenzuela, from Chile Tourism Board, listed the reason to visit Chile," The visitors will see the world's most arid desert-Atacama; more than 1,200 kilometers of viticulture valleys; 5 World Heritage Sites; the third largest continental ice fields located in the Patagonia; Ski Resorts-Santiago…The tourists will have a extraordinary experience offered by a land of contrast."

Ms. Jenny Ge, Consultant of Proexport Colombia Outbound Tourism, announced "The number of Chinese tourists to Colombia increased by 24.6% in the first half year of 2012 compared with a year earlier. At present, China market ranks 28 among the whole incoming market. We are confident on China outbound travel market and more visitors will come to Colombia. "

Embassy of the Republic of Colombia
Ms. Jenny Ge
Ministerio de Turismo de Uruguay
Ms. Paula Morán
INATUR
Mr. Jose Rivas

Chief Operating Officer of China Business Network Dr. Adam Wu

Ms. Paula Morán, from Ministerio de Turismo de Uruguay, indicated that "Our goals for 2015 are 2.600.000 tourist arrivals, 1.800 million dollars of income, positioning nation brand, diversifying tourism offer and innovating, support process started to facilitate operation of more international airports and continue efforts to establish convention and exhibition centers.''

Mr. Jose Rivas from INATUR highlighted the tourism resources "Chinese visitors will appreciate Angel Falls in Venezuela, the world's highest waterfall. Venezuela is a country with more Miss Universe Pageant titles than any other nation, which is a big attraction for visitors."
Co-organizing this event for two consecutive years, the
World Travel Online
and
China Business Network
(CBN) gave the joint promotion strong support. Dr. Adam Wu, Chief Operating Officer of China Business Network, chaired this event, "Visiting South America is as easy as ABC. Give us 2 hours, we show you the entire South America".
On the well-organized B2B workshop, the local Chinese travel companies grasped the opportunity to communicate with 15 South American suppliers including representatives of the tourism boards and consulates, tour operators, airlines as well as hotels. As feedbacks from the Chinese tour operators, this roadshow was a good chance for them to find potential partners and also find answers to necessary questions about visa, flight, tourism products and marketing strategies.
| | |
| --- | --- |
| | |
| The South American Roadshow attracted a large number of Chinese tour operators and media | B2B workshop in Guangzhou |

Mr. Wu Xuming, the manager of CYTS (Guangzhou) said, "The roadshow is very useful for us to learn more about South America tourism resources. As the World Cup and Olympic Games are approaching, we will further promote the South American travel program in Guangzhou market. We will develop more South America routes to attract and satisfy the eager Chinese tourists."
Ms. Ji Mengmeng, Operation Manager of America & Africa Holidays (Guangzhou) Co. Ltd said "We are specialized in American market. This event is a good chance for us to communicate with partners and find more potential partners, and know more about destination tourism information, such as Uruguay, which is expected to be a much hotter destination."

Some trade professionals won the prize from the lucky draw


The amazing roadshow ended with the featured cocktail dinner hosted by the South American countries, creating a delightful business atmosphere. The special lucky draw activity pushed the event to the climax.
Relevant News in Chinese: