Chinese President Hu Jintao Meets Finnish Prime Minister Matti Vanhanen
Chinese President Hu Jintao Meets Finnish Prime Minister Matti Vanhanen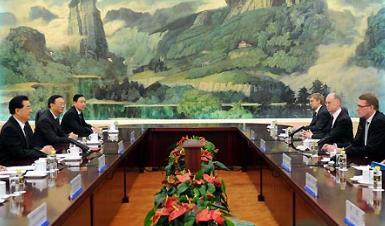 Chinese President Hu Jintao (1st L) meets with Finnish Prime Minister Matti Vanhanen (1st R) in Beijing, capital of China, April 20, 2009


Chinese President Hu Jintao met here Monday with Finnish Prime Minister Matti Vanhanen.

Hu said relations between China and Finland had withstood changes in the international situation, but had also shown stable development over the past 59 years since the countries established diplomatic ties.

In the new century, frequent exchanges of leadership visits improved political relations and economic and trade cooperation had expanded to all areas, Hu added.

Hailing bilateral coordination in international and regional affairs, Hu said China appreciated Finland's adherence to the one-China policy and its support in relations between China and the European Union.

Hu said China and Finland had similar views on safeguarding world peace and advancing common prosperity.

"Finland views China's development as an opportunity and advocates the strengthening of bilateral ties, and China views Finland as a reliable friend and partner," Hu said.

He said China would work with Finland to promote political consultation and substantial cooperation and cope with all global challenges.

Vanhanen said Finland appreciated China's important role in the United Nations, as well as its contribution to overcoming the international financial crisis and revitalizing the world economy.
He also expressed gratitude for China's support for northern European countries' participation in international affairs, pledging to boost cooperation with China.
Xinhua news