Chinese Vice President Xi Jinping meets with Venezuelan President
Chinese Vice President Xi Jinping meets with Venezuelan President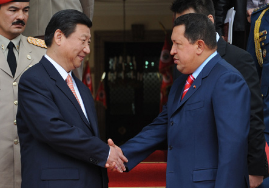 Venezuelan President Hugo Chavez (R) meets with visiting Chinese Vice President Xi Jinping in Caracas, Venezuela, Feb. 18, 2009
Chinese Vice President Xi Jinping and Venezuelan President Hugo Chavez agreed to boost bilateral cooperation during a meeting on Wednesday.

During talks with Chavez, Xi said that this year marks the 35th anniversary of the establishment of diplomatic ties between China and Venezuela. He called 2009 a great chance to promote all-round exchanges and cooperation between the two countries.

Xi said China and Venezuela should make a joint effort to enhance collaboration in the sectors of energy, finance, agriculture, infrastructure and high technology.

For his part, Chavez expressed admiration for China for the achievements it has made in its development.

Chavez said Xi's visit will consolidate the strategic partnership for common development and enhance cooperation between the two countries.

Venezuela is the fourth leg of Xi's six-nation tour which has taken him to Mexico, Jamaica, and Colombia. He left Caracas on Wednesday night for an official visit to Brazil.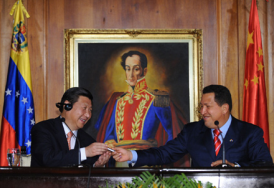 Chinese Vice President Xi Jinping (L) receives the first mobile phone produced jointly by China and Venezuela from Venezuelan President Hugo Chavez at a ceremony during which documents on bilateral collaboration between China and Venezuela in trade, finance, energy and agriculture sectors are signed, in Caracas, Venezuela, Feb. 18, 2009
Xinhua News
Please
contact us
in case of Copyright Infringement of the photo sourced from the internet, we will remove it within 24 hours.