Visiting Chinese Vice President Xi Jinping and his Colombian counterpart Francisco Santos agreed here on Monday that bilateral cooperation is to be strengthened as several agreements were signed. Colombia has been listed as the sixth tourism destination for Chinese citizens in South America.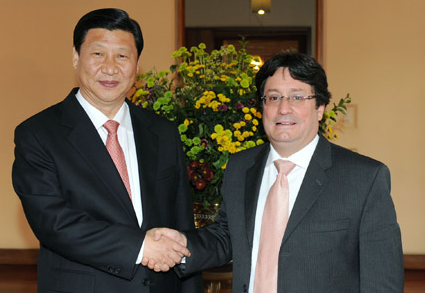 Colombian Vice President Francisco Santos (R) meets with
his Chinese counterpart Xi Jinping in Bogota Feb. 16, 2009.
This will help promote the bilateral cooperation in tourism sector and as contacts of the two peoples amplify, the economy and commerce in collaboration between China and Colombia will also be strengthened.

During a breakfast meeting with entrepreneurs from both sides, Xi proposed that work needs to be done with joined hands to create a beautiful future of China-Colombia friendly cooperation.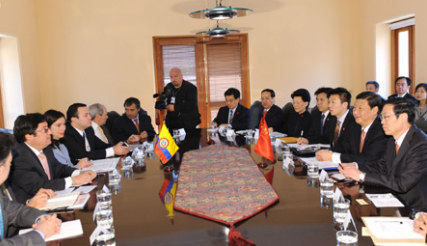 Visiting Chinese Vice President Xi Jinping (2nd R Front) holds talks with
his Colombian counterpart Francisco Santos (2nd L) in Bogota,
capital of Colombia, Feb. 16, 2009
The economic-commercial cooperation is an important constitution of the friendly cooperative relation between China and Colombia as an impetus substantial for the deepening of the bilateral ties.

Colombian Vice President Francisco Santos was also present at the meeting. Colombia is one of the biggest attractions for worldwide travelers. According to official statistics, more than one million visitors came in from overseas last year.

Before Colombia, Chile, Brazil, Peru, Argentina and Venezuela were the only South American countries as tourism destinations for Chinese citizens.

Xi said that the two sides, with a mutual understanding over each other's concerns, have timely exchanges of opinions on important matters of common interest. He, on behalf of the Chinese government, invited national enterprises to amplify business and investment in this South American country, and welcomed Colombia to further promote friendship and cooperation through the platform of World Expo Shanghai 2010.

Xi flew in the Colombian capital city Sunday afternoon from northern port Cartagena, where he met with Colombian President Alvaro Uribe on bilateral ties.

He will conclude his official visit to Colombia Monday evening and continue his six-leg tour to Venezuela.

The trip has already taken him to Mexico, Jamaica, and he will head towards Venezuela, Brazil and Malta.

Effected ADS Destinations: www.travel168.net/ads_list.asp