Malawi President Meets with Chinese Minister of Foreign Affairs Yang Jiechi
Malawi President Meets with Chinese Minister of Foreign Affairs Yang Jiechi
On January 15, 2009, Malawi President Bingu wa Mutharika met with visiting Chinese Foreign Minister Yang Jiechi in Blantyre, the economic center of Malawi.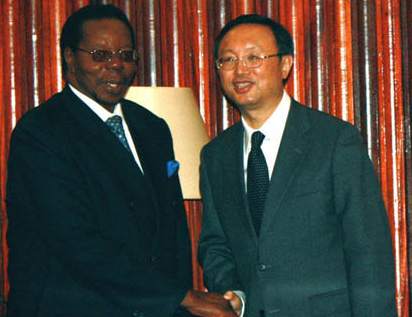 Malawi President(Left) Meets with Chinese Minister of Foreign Affairs Yang Jiechi(Right)


Mutharika said Malawi and China have carried out pragmatic cooperation in an all-round manner in bilateral sectors and within the framework of the China-Africa Cooperation Forum since the two sides forged diplomatic ties on Dec. 28, 2007. The cooperation projects have been underway smoothly, greatly promoting Malawi's economic and social development and bringing benefits to the Malawian people, the president said. He said the Malawi government will adhere to the one-China policy and hopes to enhance high-level exchanges and promote mutually-beneficial cooperation so as to yield more fruitful results from the friendly ties.

Yang said since the establishment of diplomatic ties, the two sides have further strengthened political understanding and the leaders of the two countries have reached much consensus on the development of bilateral ties. "These have powerfully pushed forward the development of our bilateral relations," Yang said. China highly appreciated Malawi's adherence to the one-China policy and its support for China on major issues, including the 2008 Beijing Olympic Games, he said. Thanks to the efforts made by the two sides, China and Malawi have scored remarkable achievements in political exchange and economic cooperation. Meanwhile, exchanges and cooperation in the fields of education, health care, culture, sports, tourism and journalism have been widely implemented, Yang said. Many projects under the frame of the China-Africa Cooperation Forum have started and been developing continuously.

On the same day, the Chinese foreign minister held talks with his Malawian counterpart Joyce Banda in Lilongwe, capital of Malawi. The two ministers exchanged views on the implementation of the consensus reached by leaders of the two countries and ways to further develop the friendship and cooperation. They reached an agreement to develop China-Malawi relations in the following aspects:

-- To further political exchanges with the aim to improve mutual understanding, trust and support on the key interests of each other.

-- To further explore cooperation potential so as to expand trade, push forward pragmatic cooperation and achieve mutual benefits.

-- To continue cultural and personnel exchange programs in order to enhance friendship between the two peoples to cement the social basis of bilateral friendship.

-- To strengthen coordination and cooperation on new international and regional issues, so as to safeguard the interests of the developing countries.

-- To enhance cooperation between the two foreign ministries for a more active role in promoting China-Malawi friendly and cooperative relations.

Following the talks, the two foreign ministers attended a signing ceremony of relevant cooperation documents between the two countries and jointly met the press.
Ministry of Foreign Affairs of China
Please
contact us
in case of Copyright Infringement of the photo sourced from the internet, we will remove it within 24 hours.