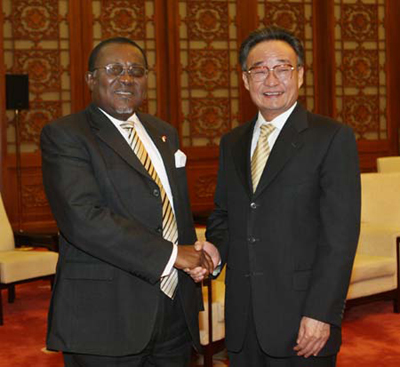 Wu Bangguo (R), chairman of the Standing Committee of China's National People's Congress, shakes hands with Abel Nathaniel Stronge, speaker of Parliament of the Republic of Sierra Leone, at the Great Hall of the People in Beijing, capital of China, Dec. 17, 2008.
China expected to work with Sierra Leone to further promote cooperation between the two countries, said top legislator Wu Bangguo here Wednesday.

Wu, chairman of the Standing Committee of the National People's Congress(NPC), China's top legislature, made the remarks when meeting with Abel Nathaniel Stronge, speaker of Parliament of the Republic of Sierra Leone.

China valued relations with Sierra Leone, Wu said, hoping that the two nations would start the cooperation program agreed by the two sides as soon as possible.

Wu said China and Sierra Leone should increase cooperation in such areas as resource exploitation, agriculture, and infrastructure construction, and should make active efforts to explore financing channels and manners.

He also hoped the two countries would encourage more business cooperation, especially in some large-scale programs.

As to parliamentary exchanges between the two sides, Wu said the NPC and Sierra Leone's parliament should make more efforts to help promote economic and trade cooperation, and increase exchanges in experience of legal system and state governing, in a bid to advance Sino-Sierra Leone relations.

Echoing Wu's remarks, Stronge said Chinese businesses were warmly welcomed to join in Sierra Leone's agriculture, mineral resources, tourism and fishery fields.

Sierra Leone would provide a sound environment and ensure the safety of Chinese investment, he noted.

He reiterated that Sierra Leone firmly adhered to the one-China policy. His country always maintained that Taiwan and Tibet were inalienable parts of the territory of China, Stronge noted.

He expressed appreciation for China's help to Sierra Leone in the past.

The Speaker was here on an official and good-will visit from Dec.16 to 22 at the invitation of Wu.