Beijing International Tourism Expo 2007 (BITE 2007), jointly organized by Beijing Tourism Administration (BTA), Conference & Exhibition Management Services Pte Ltd (CEMS) and Beijing Relation Exhibition (BRE), was successfully held in Beijing Exhibition Center from June 21-23.

Occupying both halls in the Beijing Exhibition Center with 22,000 sqm of floor space area filled with 800 Chinese and international exhibitors, an estimated 25,000 trade and public visitors packed the hallways to enjoy a myriad showcase of travel destinations from 81 countries spanning 6 continents on BITE 2007. First-time country representations participated in BITE 2007 include Austria, Belgium, Bhutan, East Timor, Ecuador, Mexico, New Zealand, Norway, Sharjah and Tunisia, to name a few. Greece collaborated with BITE for the 3rd consecutive year as Partner Country and took up the biggest stand space area of 800 sqm during the 3-day event.



China Business Network and its World Travel Online participated in the event as media supporter. Promoting the project dedicated to the outbound travel from China, World Travel Online also brought a lot of information and beautiful brochures of many destinations for the Chinese tour operators and visitors as Jamaica and Puerto Rico from Caribbean, Madagascar, an island off the coast of Africa, Mali, Tanzania, etc., and of incoming service providers for the Chinese tour operators, such as African Network Travel & Tours, Starline Travel & Tours, Hard Rock Café, The Heinz Nixdorf MuseumsForum(HNF), etc.. The diversity of the outbound travel information attracted the interested visitors which made the CBN stand crowded.

In line with the theme of 'Experiencing Beijing, Approaching Olympic Games', the 2008 Beijing Olympics Pavilion set up displays at BITE 2007 to feature the seven Olympic venues, forming a formidable platform to promote the Beijing Olympics to international visitors.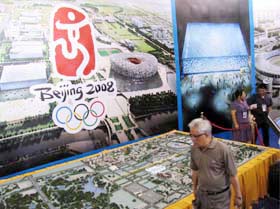 The 2008 Beijing Olympics Pavilion
"By the Olympic year in 2008, we should be able to reach 1,000 exhibiting companies, 100-countries representation and at least 40,000 gross exhibit spaces, all under one roof. we aim to recruit more ADS countries as exhibitors to help expand bilateral travels between China and the respective destinations; improve the quantity and quality of our hosted buyers to generate real value between them and the exhibitors, and finally, to enhance the effectiveness of business communications and transactions between buyers and sellers." said Mr. Edward Liu, Managing Director of CEMS.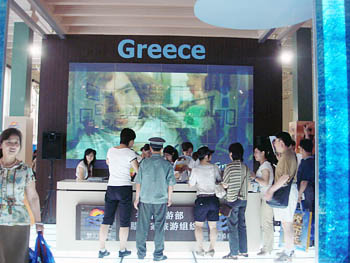 The Beautiful Stand of Greece

The stand of Pakistan
The high travel demand and growth potential present boundless opportunities for those wishing to tap into this dynamic industry. For buyers, BITE 2007 is the perfect platform to make deals with global suppliers providing a plethora of exciting and diverse range of tourism-related products and services.

Since its inception in 2004, BITE, has grown in size and stature, attracting quality exhibitors and buyers from the industry and has seen a steady increase of participants as well as visitors. This event is also the only official dedicated marketplace supported by the Beijing Tourism Administration, where the global and local tourism professionals converge, providing the vital link between the booming Chinese industry and the influential needs of the global industry.