On December 3-5, with the support of World Travel Online, Spain-El Corte Inglés launched the 2nd free Webinar attracting more than 400 Chinese tour operators
At present, various major tour agencies are going to offer the tour packages for the first year-end shopping spree since the Tourism Law put in force, hence, the preferential price in shopping malls will attract their most attention. On December 3-5,
El Corte Inglés
, the largest department store chain in
Spain
and even in Europe, the third largest in the world, with the support of World Travel Online, launched the 2nd free Webinar (
http://Lvyou168.cn/ElCorteIngles_2nd_Webinar
), attracting more than 400 Chinese tour operators to appreciate the extraordinary shopping experience in this top class shopping mall. Lucky participants given right answers to all questions have received Bvlgari Women's Fragrance.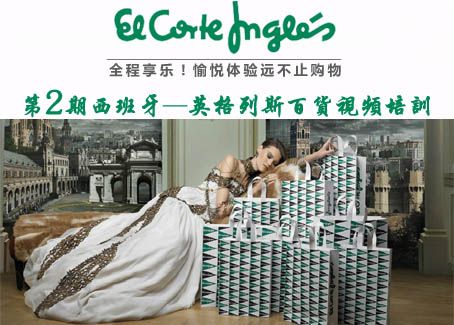 The Reliable Shopping Mall Recommended by the Chinese Authority
It is reported that El Corte Inglés Madrid flagship store - Castellana Department Store, has won "China Outbound Tourism Quality Service Supplier Certification" awarded by China National Tourism Administration and China Association of Travel Services, again becoming the first choice for international shoppers.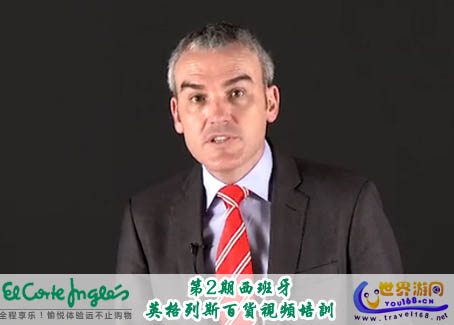 Mr. Javier Fernandez Andrino, the Representative of El Corte Inglés,
is deliveringing a welcoming speech
More Surprises During 2014 Chinese Spring Festival  
In Spain, the prices of luxury brands are 20% lower than those in China, and there are various discount promotions during the Christmas and New Year holiday. The webinar introduced that, from January to February in 2014, El Corte Inglés, along with a complete range of luxury brands, will launch Chinese New Year celebration activities.
• Triple gifts: 10% discount, highest tax drawback in Europe, gifts of limited edition   
• The whole mall decorated in Chinese style   
• Spot demonstrations of Chinese and Spanish traditional cultures as well as the world-renowned brands   
• Special products of El Corte Inglés and customized shopping bags for Chinese Spring Festival   
• Service area for Chinese visitor, Chinese speaking staff, CUP cards, exclusive tax drawback area, Chinese website, Chinese official Weibo account   
•Chinese food prepared by the chief Chinese chef in Spain, free tasting of wine, Iberian Ham, Tapas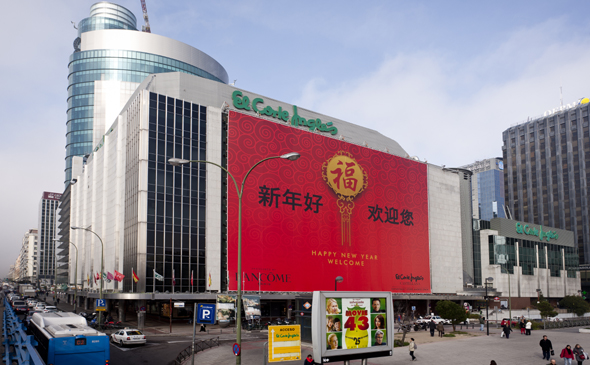 2013 Chinese Spring Festival Celebration in El Corte Inglés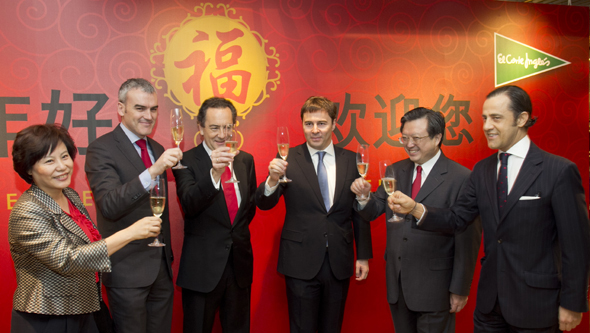 Mr. Zhu Bangzao (R2), the Chinese Ambassador to Spain, attended the celebration event
Feedbacks   
Dong Li, Manager of Product Department of Beijing Century Oriental International Travel: We are planning a tour package in Spain and Portugal, and this webinar is great helpful for our design. We will consider the webinar of El Corte Inglés as an important resources to train our new staff, and introduce Spanish travel products.  
Ye Qiongzhi, Deputy Manager of Outbound Center, Guangdong China Youth Travel Service: This kind of training is convenient and practical, which helps Chinese tour operators learn about various aspects of shopping in Spain. It would be better if there were online interactive.
Huang Tianyou, General Manager of Barbara Aesop Travel, Shanghai Oriental Peace International Travel: This webinar is complete in content. We have been offering Spain tour packages all the time and providing a lot of theme-customized tours, and this training offers a great help for our arrangement.   
Bai Jijuan from Outbound Department of Sichuan China International Travel Service: My 6 colleagues in our department participated in the training, the training effect is great! Shopping is always an interesting aspect of our customers and we also hope to provide them with more and better shopping places.