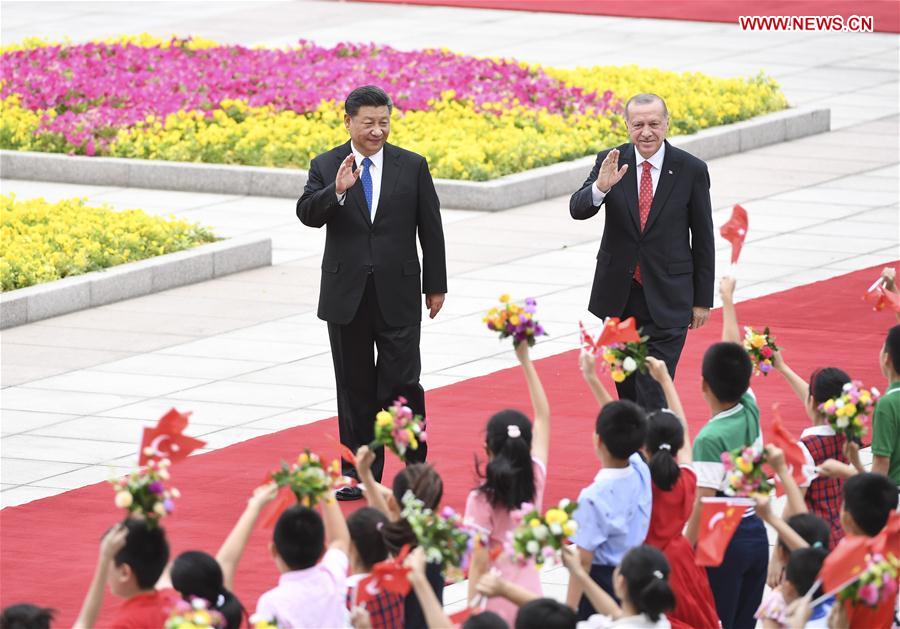 Chinese President Xi Jinping holds a welcome ceremony for Turkish President Recep Tayyip Erdogan before their talks in Beijing, capital of China, July 2, 2019. Xi held talks with Erdogan at the Great Hall of the People in Beijing on Tuesday.
Chinese President Xi Jinping held talks with his Turkish counterpart Recep Tayyip Erdogan at the Great Hall of the People on Tuesday, pledging more efforts to promote strategic cooperation between the two sides and work for sound bilateral ties.

Noting China and Turkey are both major emerging markets and developing countries, Xi said enhancing strategic cooperation is of great significance.

He called on the two sides to deepen political mutual trust, beef up strategic communication and consolidate the political foundation underlying the development of China-Turkey strategic cooperative relationship to keep bilateral ties on a healthy and stable track.

Speaking of synergizing development strategies and expanding pragmatic cooperation, Xi called Turkey an important partner in jointly building the Belt and Road.

"China is willing to move faster in dovetailing the Belt and Road Initiative with the Middle Corridor project, steadily promote cooperation on trade, investment and major projects and actively seek cooperation in small and medium-sized programs and those that benefit the people, to deliver concrete benefits to more enterprises and the people," the Chinese president said.

Xi also called for expanding people-to-people exchanges and tourism cooperation for better mutual understanding between the two peoples, to solidify the popular support for China-Turkey friendship.

Noting that the time-honored Turkey-China friendship which can be traced back to the time of ancient Silk Road is consolidated today, Erdogan said the close bilateral ties are significant for regional peace and prosperity.

Voicing firm support for the Belt and Road Initiative, the Turkish president said he hopes the two sides can step up cooperation in areas such as tourism, investment as well as exchanges in cultural sectors.