China and Croatia on Wednesday pledged to make concerted efforts to further consolidate their traditional friendship and boost bilateral win-win cooperation in various fields.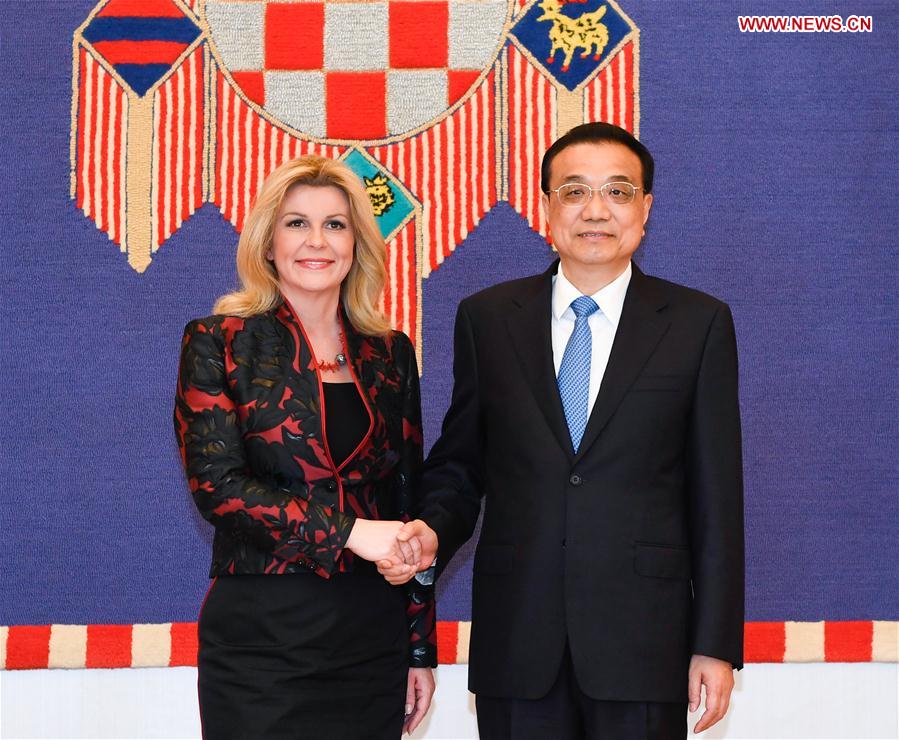 In a joint statement issued during Chinese Premier Li Keqiang's official visit to the European country, the two sides agreed to expand collaboration within the framework of the Belt and Road Initiative (BRI).
Li is the first Chinese premier to visit Croatia since the two countries established diplomatic ties in 1992. He held talks with Croatian Prime Minister Andrej Plenkovic, and met with Croatian President Kolinda Grabar-Kitarovic and Parliament Speaker Gordan Jandrokovic.
DEEPENING FRIENDSHIP
Over the past 27 years, China and Croatia have treated each other with respect and as equals, Li said in a signed article published prior to his visit, during which he would also attend the eighth leaders' meeting of China and Central and Eastern European countries (CEECs).
The political trust and friendship between the two countries have deepened, bilateral cooperation has yielded fruitful outcomes, and economic and trade ties have grown from strength to strength, added the premier.
During his talks with Plenkovic, Li said China stands ready to work with Croatia to carry on their friendship, explore new dimensions in bilateral relations, and lift mutually beneficial cooperation to a new level.
In her meeting with Li, Grabar-Kitarovic noted that Croatia and China share a profound traditional friendship and amicable bilateral relations, and have broad prospects for cooperation in areas including economy and trade, investment and culture.
Li's visit, she added, has achieved fruitful results and injected new impetus into the development of China-Croatia relations.
In the eyes of Jandrokovic, Li's visit is a trip of friendship and cooperation, and China is Croatia's great partner as well as a friend during the country's development.
China, Li told the speaker, would like to "continuously enlarge the scale of bilateral trade, enhance people-to-people and cultural exchanges, strengthen mutual learning in areas such as sports, and deepen friendship between the two peoples."
CEMENTING COOPERATION
Noting that China and Croatia are both pursuing economic transformation, Li expressed his confidence in the signed article that "our synergy and cooperation in multiple areas will open up more possibilities for promoting progress and higher living standards in both societies."
He cited the Peljesac Bridge being built by a Chinese company in southern Croatia as an instance, saying that the project, which uses European Union (EU) standards and funds, is a historic breakthrough in China-Croatia cooperation and sets an example for China-Croatia-EU cooperation.
The bridge, which is expected to cut a three-hour journey to just two to three minutes, will bring huge convenience to local people, Grabar-Kitarovic said in her meeting with Li.
She added that it has shown the capabilities of Chinese enterprises, set up a new model for bilateral cooperation, and is expected to deliver a positive demonstration effect.
In his talks with Li, Plenkovic said, "the Peljesac Bridge is highly rated by the Croatian people and China is Croatia's important partner in infrastructure construction."
In their joint statement, the two countries also pledged to step up BRI cooperation in transportation, logistics and other areas, and encourage their companies to carry out joint projects within the frameworks of the BRI, China-CEEC cooperation and Croatia's Three Seas Initiative.
After their talks, Li and Plenkovic witnessed the signing of multiple bilateral cooperation documents in areas including trade and investment, tourism, quality inspection and sports.
EXPANDING EXCHANGES
Also on Wednesday, Li and Plenkovic attended the opening ceremony of the China-Croatia Year of Culture and Tourism program, and visited an exhibition of cultural relics held by the National Museum of China. They agreed to enhance bilateral cultural and tourism cooperation.
The Chinese government supports the two countries' efforts to expand tourism cooperation, said Li, noting that 250,000 Chinese tourists visited Croatia in 2018.
The premier expressed the hope that, when conditions are ripe, direct flights can be opened in accordance with market and commercial rules to make it easier for people to travel between the two countries.
Li added that he believes Croatia will attract more and more Chinese tourists, and expects more Croatian people to visit China.
Plenkovic said the Year of Culture and Tourism will further deepen Croatia-China friendship and bring the two peoples closer.
Croatia, he added, is willing to work with China to promote practical cooperation in such fields as culture and tourism so as to lift the levels of bilateral cooperation.
In their joint statement, the two sides also pledged to intensify people-to-people exchanges, deepen cooperation in Chinese and Croatian language teaching as well as two-way flow of students, and make joint efforts to promote mutual recognition of higher education academic degrees.