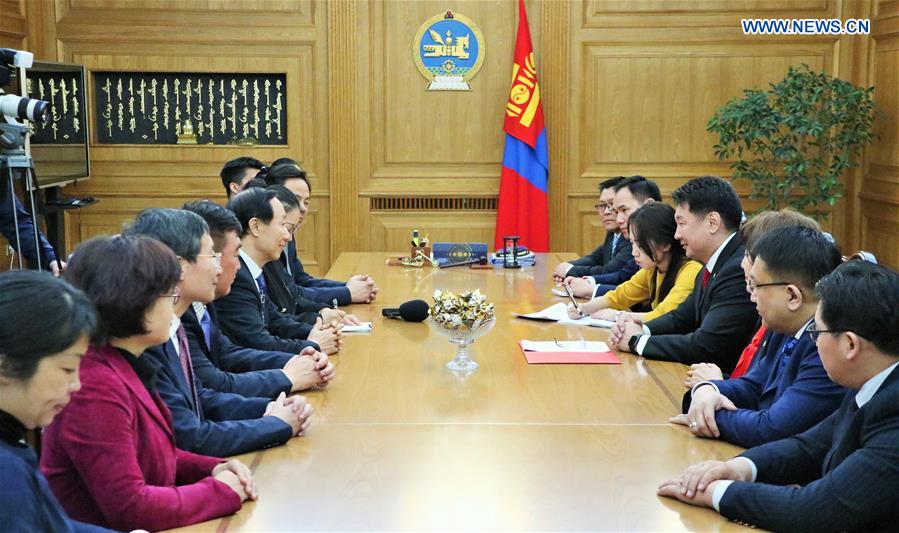 Mongolian
Prime Minister Ukhnaa Khurelsukh held talks here on Thursday with a delegation of the China Soong Ching Ling Foundation to enhance non-governmental exchanges and relations between the two countries.
Khurelsukh welcomed the visit headed by chairman of the foundation Wang Jiarui on the important occasion of the 70th anniversary of the establishment of Mongolia-China diplomatic ties.
Khurelsukh, who paid an official visit to China in April, 2018, said he has reached important consensuses with Chinese leaders on bilateral ties during the trip.
He called on both sides to strengthen non-governmental communication to make people feel closer with each other, and actively implement the consensuses of two countries' leaders.
Khurelsukh, who is also chairman of the Mongolian People's Party, hoped the foundation would take the visit as a chance to establish contacts with Mongolian institutions and do more practical work to promote exchanges between his party and the Communist Party of China (CPC) as well as the two countries.
Under the leadership of the CPC with Xi Jinping, general secretary of the CPC Central Committee, at the core, the Chinese people have made remarkable achievements, the prime minister said, adding that the CPC's experience in governance is worth learning by Mongolia.
Wang said that China highly values China-Mongolia ties and the consensuses reached by the two countries' leaders on exchanges and cooperation in various fields give a clear direction to the development of bilateral ties.
The China Soong Ching Ling Foundation is willing to work with people from all walks of life in Mongolia to push forward non-governmental exchanges, especially in such fields as medical treatment and public health, as well as cultural, sport and youth exchanges, so as to enhance the two peoples' mutual understanding and friendship.
During the visit, the delegation held a series of social and cultural events with Mongolian medical institutions and a school to promote friendship.