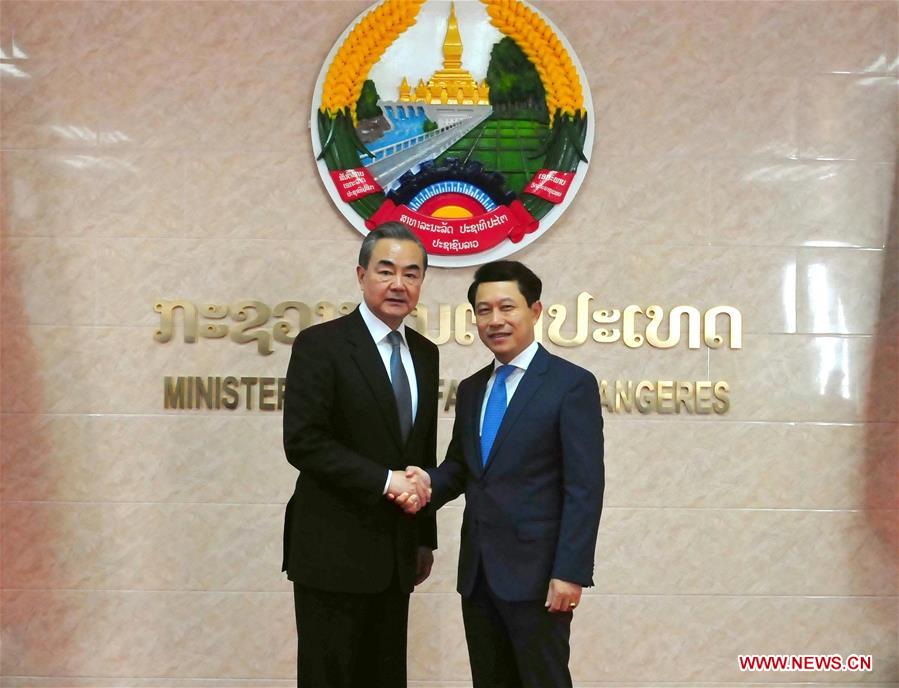 Chinese State Councilor and Foreign Minister Wang Yi met with Lao Foreign Minister Saleumxay Kommasith here on Sunday, and both sides vowed to further develop their comprehensive strategic partnership of cooperation.
During the meeting, Wang said China and Laos are close neighbors and the bilateral relationship has now entered its best period.
"We are willing to work with the Lao side, using the 10th anniversary of the establishment of the China-Laos comprehensive strategic partnership of cooperation next year as an opportunity, taking the implementation of jointly building China-Laos strategic community of shared future as the direction, making the promotion of China-Laos Economic Corridor cooperation, especially on the construction of China-Laos Railway as an impetus, and applying the Visit China-Laos Year 2019 as a platform, to comprehensively push forward the bilateral strategic communication, deepen pragmatic cooperation, enhance personnel exchanges, so as to drive the bilateral comprehensive strategic partnership of cooperation to move forward," Wang said.
Wang pointed out that the two sides need to strengthen strategic coordination and prepare well their top leaders' meetings and exchanges of various levels.
The two sides need to make a detailed plan on the cooperation of the China-Laos economic corridor, and actively push forward the construction of China-Laos railway with a high standard, he suggested.
Wang said the two sides should also organize well the Visit China-Laos Year 2019, encouraging stronger tourist flow between the two countries.
He also called on the two sides to boost youth exchanges, cultivate people-to-people friendship and strengthen the social basis for bilateral ties.
For his part, Saleumxay said the two parties and two countries are seeing frequent high-level exchanges, and the top leaders of the two countries made a decision of building a community of shared future between Laos and China, offering the direction to the Laos-China comprehensive strategic partnership of cooperation.
Laos is willing to work closely with China to implement the consensus reached between the two leaders, build the Laos-China economic corridor, especially the Laos-China railway, as they are not only beneficial to Laos' economic and social development, but also exemplary to the joint construction of the Belt and Road Initiative, the Lao foreign minister said.