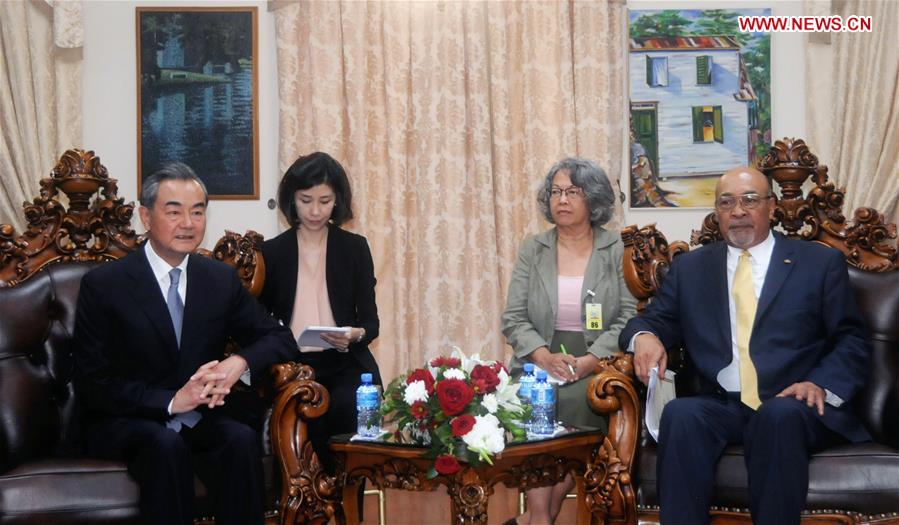 Surinamese President Desi Bouterse and visiting Chinese State Councilor and Foreign Minister Wang Yi met here on Sunday, with both sides pledging to enhance ties between the two countries.
The Surinamese government is committed to deepening bilateral exchanges and cooperation in infrastructure construction, tourism, cultural exchanges and other fields, and will continue to actively support and participate in the Belt and Road construction, Bouterse said.
He added that strengthening cooperation between Suriname and China on the Belt and Road will provide new impetus for bilateral relations and bring more benefits to the two peoples.
Suriname and China share a long-term friendship, and the Surinamese government highly values the important long-time contribution made by the Surinamese of Chinese origin to the country's economic and social development, Bouterse said.
Since the establishment of diplomatic relations, mutual trust between the two countries has continuously increased and cooperation has gone on smoothly, the Surinamese president said.
He stressed that Suriname firmly adheres to the one-China policy and is grateful for China's long-term selfless help and support.
The important visit paid by Wang will further promote the in-depth development of bilateral relations, he noted.
Suriname and China have similar appeals and views on many international issues, the president said. Suriname is willing to maintain close communication and coordination with China under the framework of South-South cooperation on important multilateral agendas such as development assistance, climate change and human rights.
Wang said Chinese President Xi Jinping has met with Bouterse three times and they have reached many important consensuses, which set the direction for the development of bilateral relations.
Wang said that it is the first time for a Chinese foreign minister to visit Suriname, but the two peoples have already forged deep friendship.
More than 160 years ago, the first group of Chinese arrived in Suriname and they actively integrated themselves into the local society and contributed to the economic and social development of Suriname, Wang said.
The Chinese culture has also become an important part of the multi-culture in Suriname and Suriname is the first country in the Western Hemisphere to list the traditional Chinese festival, the Spring Festival, as a statutory holiday, shortening the psychological distance between the two peoples, he added.
China and Suriname share similar positions on many major international issues, Wang noted, adding China regards Suriname as a reliable friend and the two sides should continue to understand and support each other on issues concerning each other's core interests and major concerns.
China will also support Suriname's efforts to safeguard national sovereignty and dignity on international occasions, Wang said.
China and Suriname are both developing countries and bilateral cooperation is a model of South-South cooperation featuring mutual support and mutual help, he said.
Wang emphasized that in carrying out cooperation with Suriname, China has no strings attached, nor seeks selfish interests, giving prior consideration to Suriname's actual needs in national development.
China appreciates Suriname's support and participation in the co-building of the Belt and Road, Wang said, noting that both sides should promote the all-round development of bilateral ties on the basis of consolidating political mutual trust driven by the co-building of the Belt and Road.
China is also willing to strengthen exchanges and cooperation with Suriname on international affairs such as climate change and human rights, Wang said.
At the invitation of Surinamese Foreign Minister Yldiz Pollack-Beighle, Wang paid an official visit to Suriname from Saturday to Sunday. During the visit, Wang also met with Surinamese Vice President Ashwin Adhin, and held talks with Pollack-Beighle.