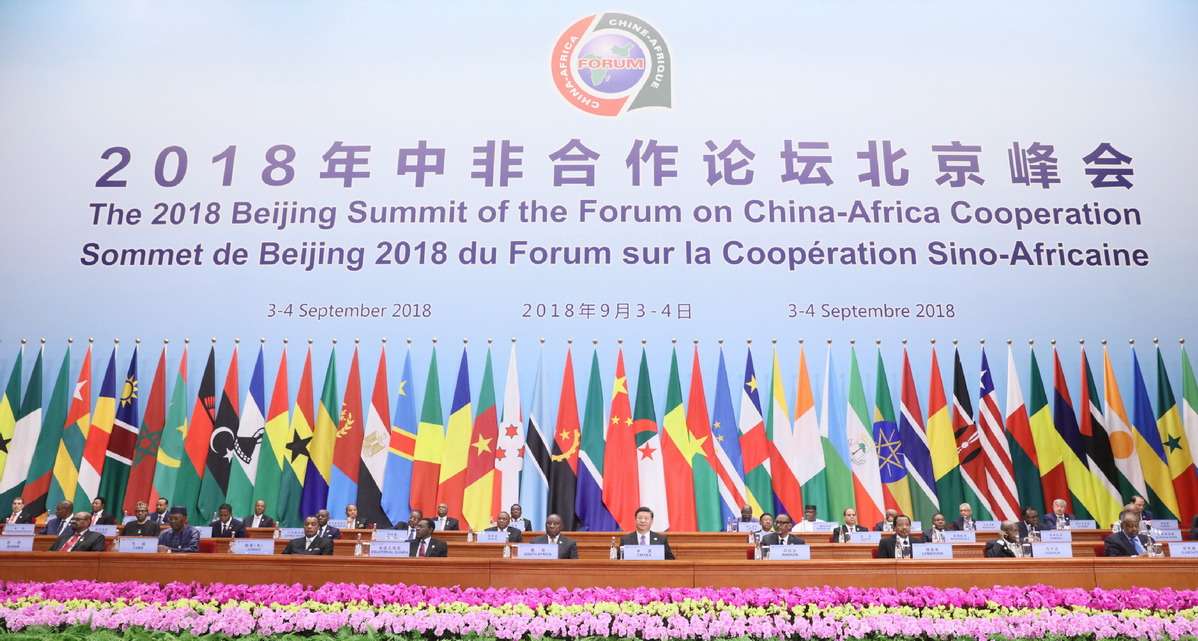 2018 Beijing Summit of the Forum on China-Africa Cooperation opens in Beijing on Sept 3, 2018. [Photo / Xinhua]
The third-round of Forum on China-Africa Cooperation, hosted by China last week, added further weight to the mutual ties between two parties and was a heartwarming story for China and Africa and for the world. The two-day summit strengthened the spirit of brotherhood between China and Africa and left no room for doubt or misunderstandings.
The two sides, which form roughly 2.6 billion population, approved an action plan for bilateral cooperation in the next three years and pledged to step up building a community with shared future as President Xi Jinping pointed out in his keynote speech, "The over 1.3 billion Chinese people have been with over 1.2 billion African people in pursuing a shared future."
In this forum, in addition to pledging to respect the principle of non-interference, providing $60 billion in support which includes free aids, loans and special funds for African development, promote the Belt and Road Initiative with international partners, Xi illustrated the criteria of building a community with shared future for China and Africa and for mankind. For example, to build a peaceful, harmonious and prosperous community, Xi reiterated win-win cooperation and common development denying the "only my backyard" or "winner take all" mentalities. He said China would pursue "the principle of giving more and taking less, giving before taking and giving without asking for return."
As a peace-loving member of not only China-African family but also human family, Chinese side reaffirmed its intention to support global peace and China's peacekeeping mission. In other words, the objective of the forum went beyond protecting bilateral interests as Xi maintained to "make the world a place of peace and stability and life happier and more fulfilling for all." In his key note speech, Xi reiterated safeguarding global peace in general and peace in Africa in particular. To reinforce peace and stability in Africa, Xi said, "China decided to set up a China-Africa peace and security fund to boost our cooperation on peace, security, peacekeeping, and law and order." He went on to say, "A China-Africa peace and security forum will be established as a platform for conducting more exchanges in this area."
If 2.6 billion people on earth live peacefully and support global peace with genuine intention, it will put a highly positive impact on the global security and stability. On the contrary, if even a small state plays a destructive role and violates the principle of "live and let live", it will have a horrible consequence on the world and will put all nations at risk. Hence, when a nation is seeking to play its role constructively in the current global era, this nation deserves global praise and support.
The objective of this forum was in line with the UN Charter, the UN 2030 Agenda for Sustainable Development and Universal Declaration of Human Rights as all these international instruments are in pursuit of global peace and prosperity, freedom from fear and want, promoting "social progress and better standards of life in larger freedom", exercising the spirit of brotherhood and promoting peaceful coexistence, backing the principles of justice and international law, combating terrorism, developing friendly relations among nations, and building an open, just and inclusive society. These issues are the highest aspiration of all nations around the world.
So far China has taken significant steps in building a community with shared future for mankind. For example, its role in combating terrorism and peacekeeping as it dispatched more than 37,000 peacekeepers to 24 UN peacekeeping missions, contributing to global economy, sending humanitarian aid to the countries in need, brokering peace talks among nations and pursuing mutual respect and win-win result are highly essential for building such a community.
The third-round Forum, where three African countries Gambia, Sao Tome and Principe and Burkina Faso were new members, was comprehensive and productive. It is believed that not only the participating countries, but many other nations will taste the fruit of this forum. It is because China has always shared the fruit of its development with the world. In the community with share future, no nation is intended to be left behind. Through such forums, the two sides seek to follow international principles and build an inclusive, open and moderately prosperous society so that all could have their role and their share.
Instead of exercising zero-sum game or "only my backyard" mindset, trampling upon the rights and territorial integrity of other nations or countries, disregarding or humiliating other nations or menacing them, all countries must play a positive role and respect the rights and dignity of people and practice upon international principles so as to build a community void of fear, want and violence.