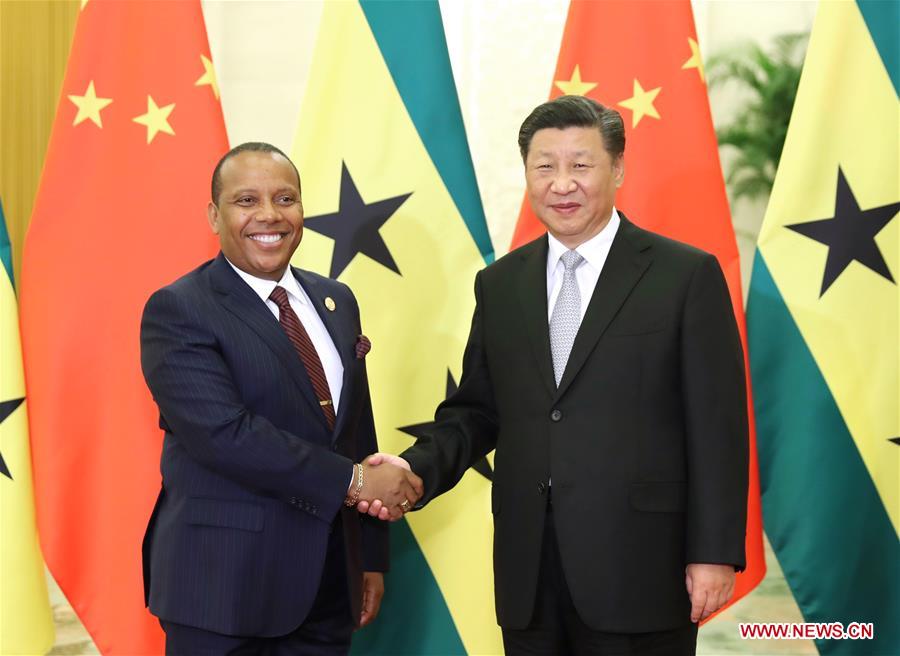 Chinese President Xi Jinping on Wednesday met with Prime Minister of Sao Tome and Principe Patrice Trovoada after the 2018 Beijing Summit of the Forum on China-Africa Cooperation (FOCAC).
The success of the FOCAC Beijing Summit was strong proof that almost all African countries are China's good friends, Xi said.
"We welcome Sao Tome and Principe back to the China-Africa big family of friendly cooperation," Xi said.
Since China and Sao Tome and Principe resumed diplomatic relations in December 2016, bilateral cooperation in various areas has brought fruitful results, which demonstrated that the resumption of diplomatic relations was completely in line with the fundamental interests of the two peoples, Xi said.
China appreciates Prime Minister Trovoada's commitment to the one-China principle and his active role in pushing friendly cooperation with China, Xi said.
China will be a trustworthy friend and partner of Sao Tome and Principe on its development path, Xi said, adding that China is willing to support the economic and social development of Sao Tome and Principe and to work with the country to support each other on issues involving their respective core interests and major concerns.
"We believe bilateral ties will continue to make new progress on the basis of the one-China principle, benefiting people of both sides," Xi said.
Trovoada congratulated the success of the summit. This was the first time that Sao Tome and Principe participated in a FOCAC summit, and the country hopes to work with all sides to make contributions to building an even stronger China-Africa community with a shared future, Trovoada said.
Sao Tome and Principe thinks highly of the new initiatives on China-Africa cooperation proposed by President Xi, and appreciates that China has always stood together with Africa, Trovoada said.
It's been proved that Sao Tome and Principe's decision to resume diplomatic relations with China was exactly correct, Trovoada said.
Sao Tome and Principe firmly upholds the one-China principle, and is committed to establishing close ties with China, Trovoada said, adding that the country is willing to deepen win-win cooperation with China in economic and social fields, which will help Sao Tome and Principe's development.