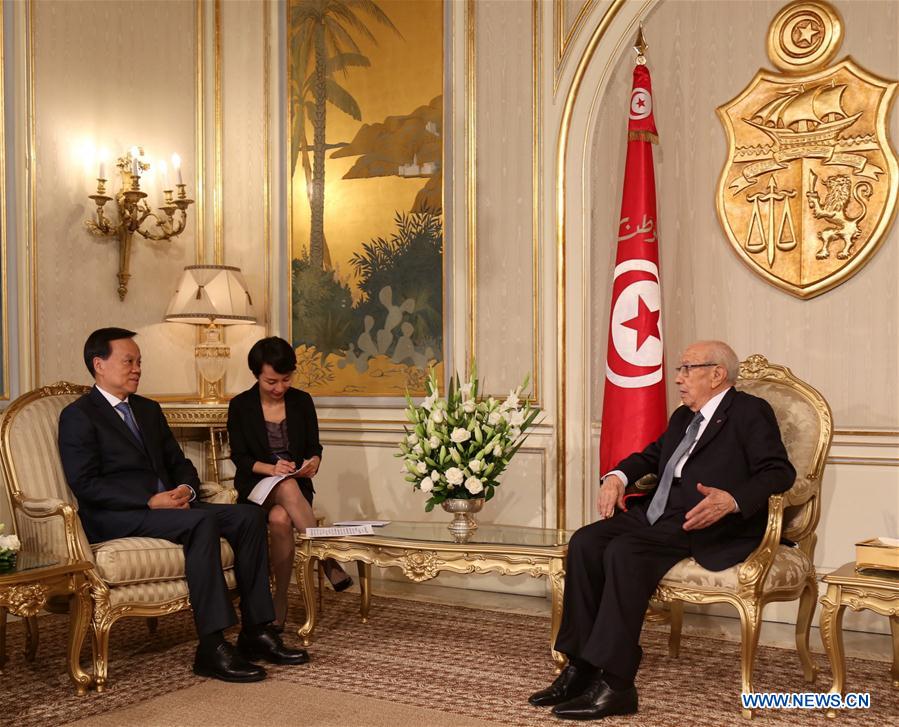 Tunisian President Beji Caid Essebsi(R) meets with Chen Min'er (L), a member of the Political Bureau of the Communist Party of China (CPC)
Central Committee and Secretary of the CPC Chongqing Municipal Committee, in Tunis, Tunisia, June 29, 2018
Tunisian
President Beji Caid Essebsi has said that Tunisia attaches great importance to boosting its relations with China in all fields.
Essebsi made the remarks at a meeting Friday with a visiting Chinese delegation headed by Chen Min'er, a member of the Political Bureau of the Communist Party of China (CPC) Central Committee and secretary of the CPC Chongqing Municipal Committee.
Chen conveyed to Essebsi greetings and good wishes from Chinese President Xi Jinping.
Highlighting the long history of mutual trust and sincere cooperation between China and Tunisia, Chen said that China is willing to open up new areas to boost friendly exchanges with Tunisia at all levels and deepen bilateral pragmatic cooperation in all fields, to pursue mutually beneficial and win-win results, under the guidance of President Xi's concept of building a community of shared destiny for mankind and China's Africa policy of sincerity, practical results, affinity and good faith.
Chen said China appreciates Tunisia's active participation in the construction of the Belt and Road Initiative, which was proposed in 2013 by China to build a trade and infrastructure network connecting Asia with Africa and Europe along the trade routes of the ancient Silk Road. He added that China is ready to cooperate with Tunisia on implementing the projects within the initiative.
Chen also welcomed Tunisia's decision to participate in the Beijing Summit of the Forum on China-Africa Cooperation (FOCAC) that is slated for September.
Essebsi asked Chen to relay his greetings and good wishes to President Xi, adding that he has full confidence in the future development of the Tunisia-China ties.
The Tunisian leader expressed the willingness to boost Tunisia's exchanges with China in all fields and solidify the friendly bilateral ties. He said Tunisia welcomes more investments and tourists from China.
Essebsi also pledged to strengthen Tunisia's coordination with China in international and regional affairs, in order to promote world peace and development.
During the visit, Chen also met with Tunisian Prime Minister Youssef Chahed, Foreign Minister Khemaies Jhinaoui, and leaders of major Tunisian parties.