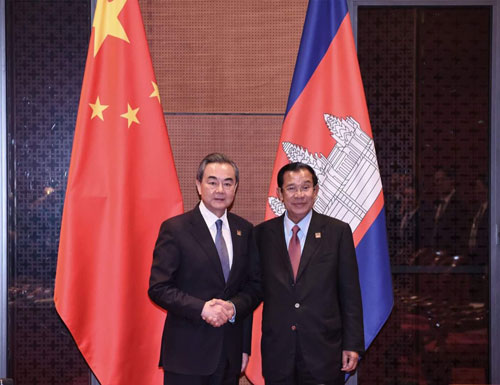 On March 30, 2018 local time, State Councilor and Foreign Minister Wang Yi met with Prime Minister Hun Sen of Cambodia on the sidelines of his attendance at the Great Mekong Sub-region (GMS) Summit in Hanoi, Vietnam.
Wang Yi conveyed the greetings from China's leaders to Hun Sen and noted that China and Cambodia, as a community of shared future with strategic significance, have always supported, trusted and helped each other. China will as always support the Cambodian people in following a development path suitable to its own national conditions, support Cambodia in safeguarding its national sovereignty as well as legitimate rights and interests, and support the country in smoothly holding its general election. China is willing to constantly deepen and expand China-Cambodia friendly cooperation as well as enhance communication and coordination in regional affairs. China believes that Cambodia will also keep playing a positive role in promoting the sound development of the relations between China and the Association of Southeast Asian Nations (ASEAN).
Hun Sen extended again his warm congratulations to President Xi Jinping on his election as Chinese President by a unanimous vote and to Premier Li Keqiang on his re-election, and expressed gladness at the constant consolidation and development of Cambodia-China traditional friendship. He thanked China for firmly supporting Cambodia in safeguarding national sovereignty, independence and dignity. The Cambodian People's Party is confident in and capable of, together with the Cambodian people, smoothly advancing all national causes. Cambodia expects that both sides will further intensify friendly cooperation in all fields and is ready to make its own contributions to promoting ASEAN-China cooperation.