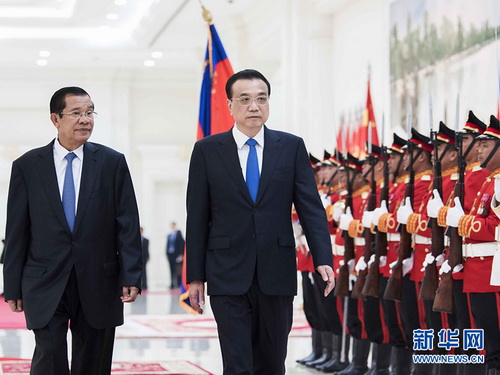 On the morning of January 11, 2018 local time, Premier Li Keqiang held talks with Prime Minister Hun Sen of Cambodia at the Peace Palace in Phnom Penh.
Li Keqiang expressed that China and Cambodia are close neighbors that enjoy profound traditional friendship. China has always respected Cambodia's sovereignty and independence and firmly supported Cambodia to stick to a development path that suits its national conditions. China stands ready to take the 60th anniversary of the establishment of diplomatic relations between the two countries as an opportunity to continue intensifying high-level exchanges and deepening practical cooperation in various fields, and enhancing people-to-people and cultural exchanges with Cambodia. At the same time, China will provide assistance for Cambodia to develop economy, particularly in improving people's livelihood, within its capacity and join hands to build a community with a shared future with strategic significance for China and Cambodia.
Li Keqiang stressed that China is willing to better align development strategies with Cambodia and take the joint building of the "Belt and Road" as an opportunity to well grasp important cooperation projects of capacity and investment. Both sides should strengthen cooperation in special economic zone, transportation infrastructure construction, agriculture and deep processing of agricultural products and tourism, expand cooperation in science, education, culture, health as well as at local level and well host series of activities celebrating the 60th anniversary of the establishment of China-Cambodia diplomatic relations to make the public opinion foundation of China-Cambodia friendship more solid.
Hun Sen welcomed Premier Li Keqiang's visit to Cambodia on the occasion of the 60th anniversary of the establishment of diplomatic relations between Cambodia and China. He expressed that Premier Li Keqiang's visit will surely further consolidate traditional friendship between Cambodia and China and promote Cambodia-China comprehensive strategic cooperative partnership and the LMC to a new level. China is Cambodia's friendly cooperation partner. Both sides enjoy high-degree political mutual trust, active practical cooperation in various fields and profound traditional friendship between the two peoples. Cambodia thanks China for its long-term and firm support and assistance to the country and wishes the Chinese people to realize the "Two Centenary Goals" at an early date. Cambodia is satisfied with the progress of major projects in highways, ports and construction of special economic zones of the two countries and stands ready to further expand cooperation in infrastructure, agriculture, tourism and people's livelihood. It is the Cambodian government and people's consensus to consolidate and develop Cambodia-China friendship. The Cambodian side will continue firmly supporting China's legitimate stance on the issues concerning China's core interests. Cambodia is willing to jointly well host the activities celebrating the 60th anniversary of the establishment of bilateral diplomatic relations with China and carry forward Cambodia-China traditional friendship.