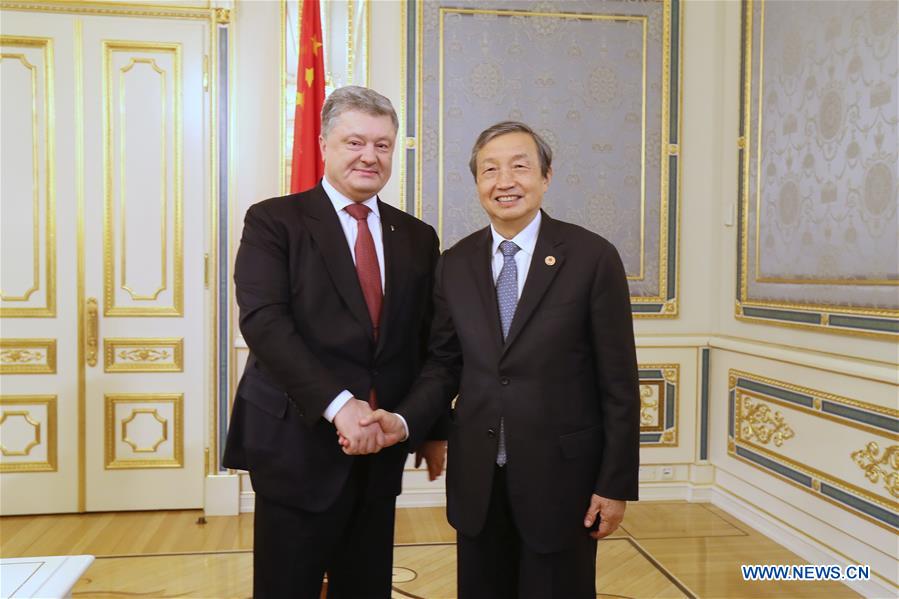 Ukrainian
President Petro Poroshenko met on Tuesday with visiting Chinese Vice Premier Ma Kai, with both sides pledging to enhance cooperation in various fields.
Ma is here to take part in the third session of the China-Ukraine Intergovernmental Commission on bilateral cooperation, which, he said, is largely intended to boost the implementation of important agreements reached by the leaders of the two countries.
Ma said the 19th National Congress of the Communist Party of China held in October has injected a powerful impetus into China's development and brought new opportunities for bilateral cooperation.
Since diplomatic ties were established between China and Ukraine 25 years ago, cooperation between the countries has yielded plentiful results, he said.
China is willing to work together with Ukraine to bring bilateral cooperation in such sectors as economy and trade, agriculture, space aviation, science and engineering, to a new level, Ma said, adding projects under the China-proposed Belt and Road Initiative will be highlighted.
During his meeting with Ma, Poroshenko reaffirmed Ukraine's support for the Belt and Road Initiative and expressed hope for strengthened all-round cooperation and relations with China.
Earlier in the day, Ma met with Ukrainian Prime Minister Volodymyr Groysman after co-chairing the third session of the China-Ukraine Intergovernmental Commission on bilateral cooperation with Stepan Kubiv, Ukraine's first deputy prime minister and economic minister.
At the commission session, China and Ukraine signed an action plan on the joint construction of the Belt and Road and agreed to deepen all-round collaboration to strengthen bilateral strategic partnership.
The Belt and Road Initiative China proposed in 2013 aims to create greater trade, infrastructure and people-to-people links between Asia, Europe and Africa by reviving and expanding the ancient Silk Road routes. It comprises the overland Silk Road Economic Belt and the 21st Century Maritime Silk Road.