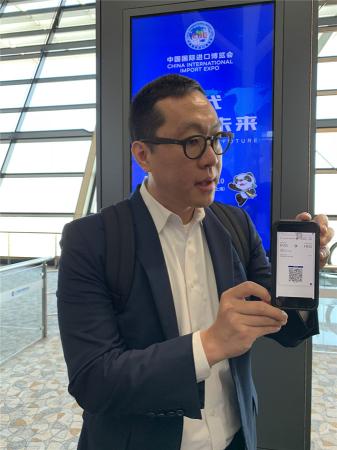 Zhang Lian becomes the first traveler to experience the paperless process for check-in,
security checks, customs clearance and boarding at Shanghai Pudong International Airport on Oct 29. (Photo by Wang Ying/chinadaily.com.cn)
Shanghai Pudong International Airport on Oct 29 became the first airport in the Chinese mainland to offer paperless travel procedure for outbound passengers.
Zhang Lian, a passenger on the Cathay Pacific Airways flight from Shanghai to Hong Kong, was the first traveler to experience this paperless process, relying on just the e-ticket stored in his mobile phone to check in, undergo security checks and customs clearance, and board the plane.
"It took me only about five minutes to get from the check-in counter to the departure area using this new paperless process. It usually takes me twice or even thrice as long," said Zhang, a consultant based in Singapore who frequently travels between Asian cities.
Hou Kan, the regional director of the airport, passenger, cargo and security of North Asia, International Air Transport Association, said that the complete digitization of the boarding procedure for international flights is just a matter of time, seeing how automated processes are already becoming prevalent for domestic flights in the Chinese mainland.