The Philippine Department of Tourism participated in IT&CM China 2018, one of the leading travel trade show in China, where it showcased the best tourism resources, including beautiful attractions, unique cultures, and other advantages for MICE tourism.
World Travel Online
took an in-depth communication with the Philippines' Department of Tourism-Shanghai tourism attaché Ireneo H.Reyes on the event.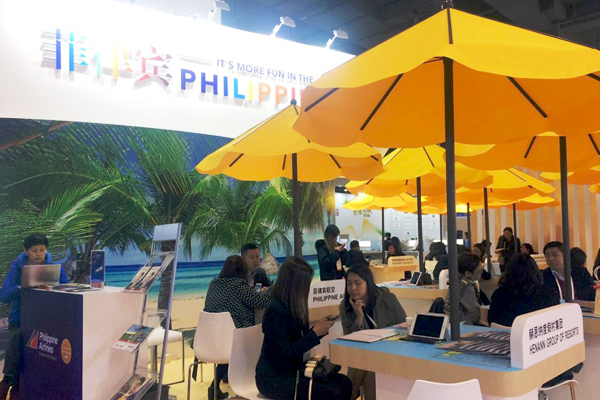 The Philippine Department of Tourism broungt hotels and resorts, desination management companies
and airlines to discuss cooperation with buyers.
Ireneo Reyes shared that a total of 968,447 Chinese visited the Philippines last year, becoming the second top source market, up 43.3 percent from 675,663 the previous year. For the first month of 2018, about 111,344 Chinese visitors arrived in the Philippines, representing a 29.6 per cent increase from the same period last year. The Philippines' Department of Tourism (DOT) is raising the bar this year with a target of 1.5 million arrivals.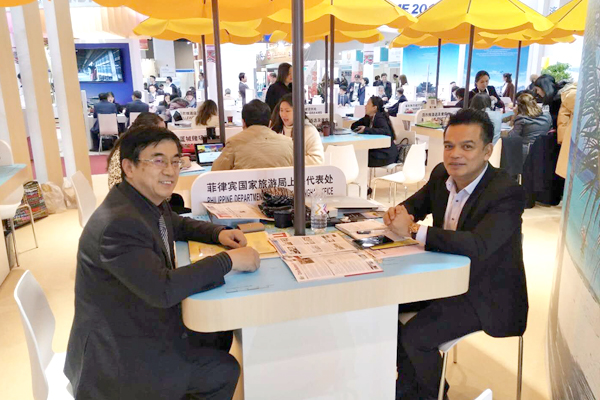 Dr. Adam Wu, CEO of World Travel Online and CBN Travel&MICE,talked about the tourism development of the Philippines,
with

the Philippines' Department of Tourism-Shanghai tourism attaché Ireneo H.Reyes
Convenient accessibility is the most important factor to drive the tourism. The Philippines now offer the visa-on-arrival policy for Chinese tour groups and the visa-free policy for Chinese nationals who hold valid visas to the US, Japan, Australia, Canada and Schengen States. And in terms of fight, there will be more direct and charter flights from China to the Philippines this year, which will definitely bring more Chinese tourists to the country.
Recently, Alipay, the world's largest mobile and online payment, has further grown its cross-border business in the Philippines. For the initial roll-out, Resorts World Manila has Alipay-equipped terminals in Maxims Hotel, Newport Cinemas and Snack Bar, the VIP Concierge, the Gaming Redemption outlet, and its 12 signature restaurants. This is a smart move to drive Chinese tourists to go shopping in the Philippines.
In addition, Ireneo Reyes also gave a brief introduction of the MICE tourism for the media. The Philippines is an tropical island with various tourism resources, and lots of outdoor activities are available for visitors. Apart from the well-known Palawan, Boracay and Cebu, many new destinations, including Dumaguete and Bicol, are becoming more and more popular among Chinese tourists. The Philippines, is an ideal destination for business meetings and inspiring incentives.