•Domestic destinations and other Asian countries were most popular among Chinese travelers this year, according to Trivago and Ctrip •Less conventional locations seeing growth in Chinese visitors include Morocco, Turkey and the UAE •More mainland tourists now prefer "custom" holidays over tour packages
Last week 6 million Chinese tourists traveled abroad during a national holiday, and that likely meant big paydays for traditional tourist destinations, such as London or Paris. But, increasingly, China's travelers are taking their families — and their money — to less conventional locales.
All told, more than 700 million in China traveled during the semi-annual Golden Week holiday from Oct. 1 to Oct. 8, according to the government. And while the couple million tourists who took the week to go abroad mostly visited longtime Asia favorites, there're indications that new countries are catching their attentions.
That is, four of the five most popular international destinations among Chinese tourists during the eight-day holiday were located in Asia, according to travel bookings platform Trivago. Those locations included Hong Kong, Tokyo, Osaka and Bangkok, with Paris the lone European city in the top five.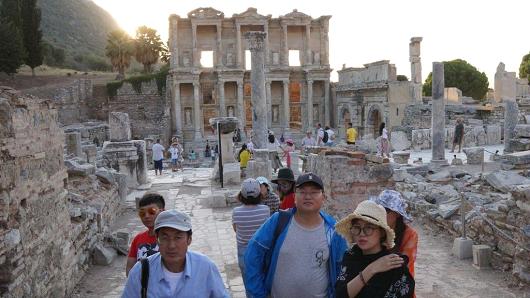 'Hot new locations'
Besides those mainstays, mainland tourists bitten by the travel bug are also increasingly adventurous. Some are looking farther afield for their next vacation and others eschewing the traditional package tours in favor of self-planned trips.
These were the "hot new locations" that saw greater than 50 percent growth in the number of tourist bookings this year, according to Ctrip, one of the largest travel services providers in China. Expedia-owned Trivago also mentioned similar trends:
Turkey
Finland
Austria
Germany
Vietnam
Cambodia
Accompanying the growing desire to visit those destinations is the increased demand for more personalized holiday experiences, market research shows.
Tailor-made travel services are fast becoming customary among wealthy travelers looking to escape cookie-cutter vacation packages. According to Ctrip, factors that more Chinese tourists are seeking out from their holidays include "avoiding big crowds," "no shopping" and private travel guides.
When travelers visit places others haven't, they can derive "social cachet," and that's become a trend among the middle class, according to Ben Cavender, a principal at consultancy China Market Research Group.
"Increasingly, we are seeing well-heeled Chinese travel to hard-to-reach destinations for the bragging rights and WeChat pictures [to] show they've been somewhere exotic," he said.
The big picture
Still, overall travel patterns for the year show that major Asian countries continue to make up most of the top destinations visited by mainland travelers.
Both Trivago and Ctrip said Japan, Singapore, Vietnam, Hong Kong and Taiwan were among the most in-demand locations for Chinese tourists traveling overseas.
More than 70 percent of Chinese tourists traveling abroad will visit other Asian countries this year, according to Ctrip. Of those Asia-bound travelers, 45 percent will head to countries in Southeast Asia, with Thailand proving the most popular destination in that region, a Ctrip spokesman told CNBC.
Meanwhile, those tourists are also willing to spend more — and not just on shopping.
"We see that Chinese travelers are spending more and more," Trivago CEO Rolf Schromgens told CNBC's "Squawk Box" on Monday. Chinese tourist expenditure on hotel rooms has increased 23 percent compared to the year before, he added.
Contrary to the "stereotype of Chinese tourists," an increasing number of mainland travelers are now more willing to spend on experiences, with luxury hotels and unique travel services starting to form a larger expenditure item for many, according to Ctrip.