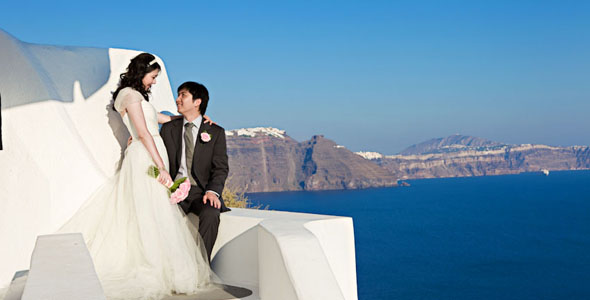 The arrival of Chinese tourists in Greece will increase by 20 percent, exceeding 120,000, according to estimates by hotel industry representatives.
According to a Kathimerini newspaper report, Santorini is the destination of choice for the Chinese. The Cyclades island is also a favorite for wedding ceremonies. The mayor of Santorini and tourist businesses are working on a plan to extend the tourist season and bring more Chinese weddings to the island.
The president of the Santorini Hotel Association, Manolis Karamolegos, told Kathimerini that local authorities in conjunction with businesses that focus on tourism, have organized a series of events to attract more visitors from China, such as the Chinese New Year Celebration. Also, hotels will try to attract Chinese organizations who would like to host conventions.
A substantial number of hotels and tourism businesses will remain open after the regular tourist season in order to fulfill the demand. The association president also said that the island hotels showed increase in bookings since the beginning of the season.
According to Hellenic Chamber of Hotels member Spiros Galiatsatos, the only obstacle to further increase the number of Chinese visitors to Greece are flight connections. Also, Galiatsatos told Kathimerini, most Chinese visit Greece after their trip to another Mediterranean destination such as Italy.