First wave of post-ADS tours from China arrive in Canada.
Just two months after the official signing of the Approved Destination Status (ADS) agreement between the governments of China and Canada, the first tours have arrived in this country. In a whirlwind eight days, officials from the Chinese National Tourism Administration (CNTA) and more than 370 travellers have been taking in the best that Canada has to offer.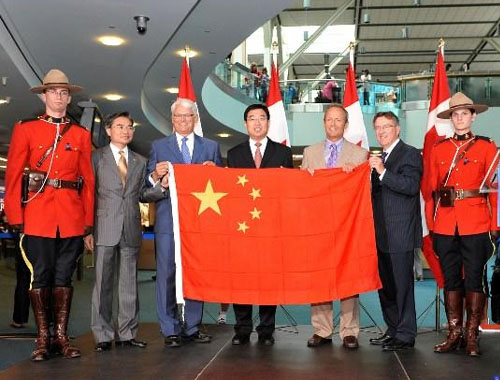 Chinese Consul General, Liang Shugen; the Honourable Gordon Campbell, Premier of British Columbia; Du Jiang, Vice Chairman of the China National Tourism Administration; the Honourable Stockwell Day, President of the Treasury Board and Minister for the Asia-Pacific Gateway; Larry Berg, CEO, Vancouver Airport Authority.


The Canadian Tourism Commission (CTC) and other industry partners have been on hand to welcome them to this country. The ADS designation means that Canada can receive group travellers from China, not just individuals, and that Canada can now be marketed as a destination within China itself, a rapidly expanding marketplace.

Canada's popularity meant that the 13 tour operators charged with these first visits could drum up 370 travellers at short notice—a very encouraging indicator for the future. It also chimes with a 2009 Conference Board of Canada survey that pointed to a 50% increase in travel numbers to Canada from China by 2015. These receptive tour operators in Canada are all accredited through the Tourism Industry Association of Canada (TIAC).

"Approved Destination Status for Canada in China represents a tremendous tourism opportunity for this country," says Greg Klassen, CTC senior vice president, Marketing Strategy and Communications. "China's affluent middle class, which forms a big slice of the world's fastest growing outbound tourism market, is getting a real taste for overseas travel and now we can ensure Canada is on the menu."