A group of 1,000 Chinese tourists including 50 officials arrived in Vientiane on Saturday, in support of efforts by the Lao and Chinese governments to boost tourism during Visit Laos-China Year 2019.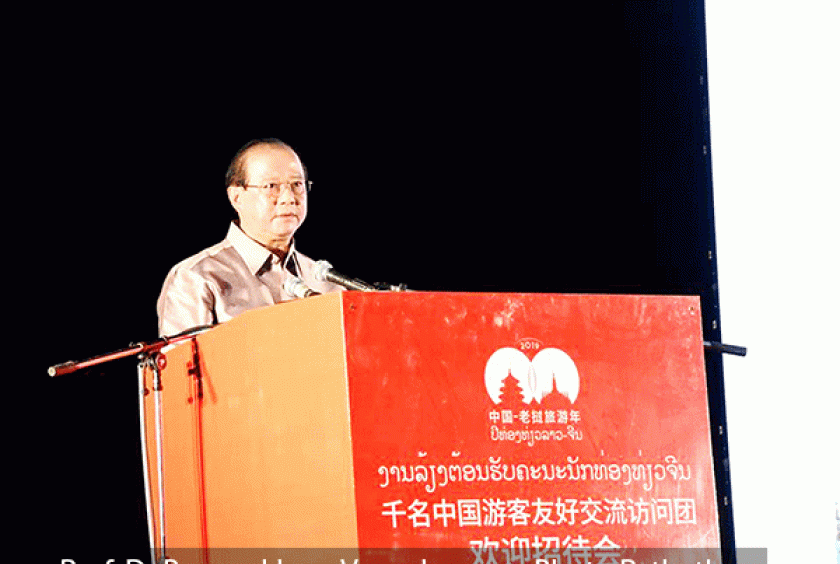 The Lao government hosted a welcome ceremony for the group in Vientiane on Sunday, which was led by Minister of Information, Culture and Tourism, Prof. Dr Bosengkham Vongdara.
The minister warmly welcomed the visitors, noting they were the first officially-arranged Chinese tour group to visit Laos as part of Visit Laos-China Year 2019.
The welcome ceremony raised the profile of Visit Laos-China Year 2019, with participants from both Laos and China gaining a deeper insight into each other's culture through a series of performances.
Prof. Dr Bosengkham said the governments of Laos and China hoped to attract a large number of Chinese visitors to Laos this year, while also encouraging Lao people to visit China.
In a bid to entice Chinese visitors, the Lao government has reduced the tourist visa fee for Chinese nationals from US$20 to US$10.
Prof. Dr Bosengkham invited the visitors to explore Laos' historical, scenic and cultural attractions, some of which are being revamped to better serve tourists.
The group is now visiting tourist attractions in Vientiane and some of the provinces during their stay in Laos from April 6-9.
According to the Ministry of Information, Culture and Tourism, Laos recorded more than 4.1 million foreign visitors last year, an increase of 8.2 percent compared to 2017.
More than 800,000 tourists came from China in 2018, an increase of 26 percent compared to 2017.
This year the government projects that more than 1 million Chinese will visit Laos and is hoping to attract about 4.5 million visitors in total.
The Visit Laos-China Year 2019 campaign was launched in January to mark the start of a year-long promotion to attract more foreign tourists to Laos.
In addition to cultural performances, there will be an exhibition of Lao and Chinese tourism products, and a China culture week celebrating 58 years of Laos-China diplomatic relations.
There will also be a Mid-Autumn Festival and Chinese cultural shows in Luang Prabang and Vientiane, while tourism authorities will hold a meeting on Laos-China tourism management in Champassak province.