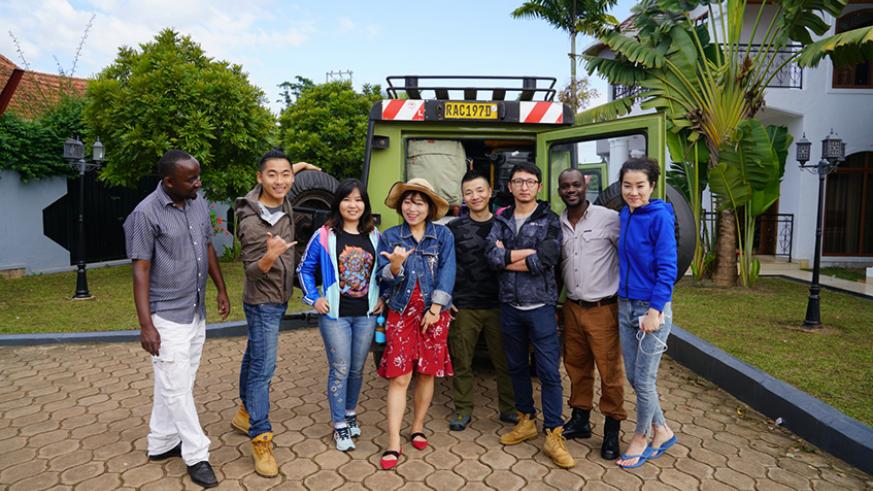 Chinese photographers in Rwanda for the contest (Courtesy)
Famous Chinese photographers are in the country to take part in a touristic photography contest with their
Rwandan
counterparts.
Dubbed "Rwanda-China Friendship Cup Photo Contest," the competition aims at promoting Rwandan tourism in China.
Organized by the Rwandan embassy in China with support of the Chinese government, the contest will attract professional photographers from both countries and it is the first time they will be coming together.
The contest that will be climaxed by an awarding ceremony this coming weekend at the Kigali Convention Centre was launched in December last year in Beijing at the Rwandan Embassy in China.
Chinese photographers have been taking pictures in different parts of the country since January 4th, awaiting an awarding ceremony at Kigali Convention Centre on Saturday where over ten best photographers will be rewarded.
Rwandan photographers are able to hand in their photographs until Thursday this week.
The four Chinese photographers are an elite class with a high following on social media in their country.
According to Li Qing, the founder of AfriCo, a company that is co-preparing the contest, the Chinese photographers were selected according to the characteristics of their fan-base being target groups that would be interested in visiting Rwanda.
According to research done in China, Chinese who would be interested in visiting Rwanda are mostly 30 to 49 years old, mostly male (70 percent) and live in first tier cities. They are also middle or high class.
Each of the Chinese photographers participating in the contest has at least 1.5 million fans on social media accounts. The participants from China are Zhang Qianli a photographer and writer with 2million fans on social media, Zhang Zhitao a photographer with 1.5million fans, Zhu Mengfei, fashion and travel blogger with 1.5m fans, and Dong Lei, a video blogger with 1.5m followers.
These will be reaching to their audiences with pictures concerning Rwanda.
The photos taken are to be exhibited both in Rwanda and China in March this year; however, the photos will also be used to promote Rwandan tourism in China through social media.
Li Qing says the use of social media will be very effective since the Chinese market does not see much television, but rather use more of social media to get information.
According to organizers, just 10 days since the launch of the campaign in December, the information about Rwanda posted on social media had over 11 million views.
Qing says that the pictures and videos will also be promoted by using popular Chinese travel platforms like fliggy, Ctrip, mafengwo, among others, with an estimated exposure of 200 million on social media, and 50 million on travel platforms.