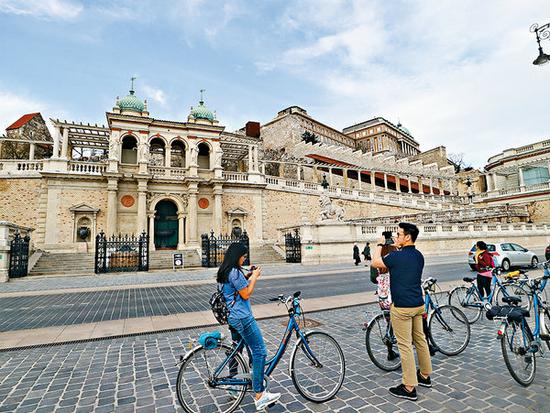 Visitors explore the city of Budapest, Hungary, on bikes. It takes about two hours to ride along the banks of Danube.
(Photo provided to China Daily)
An exhibition showcasing off-the-beaten-track destinations in the European Union was staged in Beijing on Oct. 8.
The Hidden Gems exhibition was part of the "Experience Europe" campaign organized by the Delegation of the European Union to China.
It aims to provide Chinese tourists with comprehensive information about lesser-known European destinations.
"This exhibition is an invitation to Chinese travelers to discover the hidden gems of Europe and embark on an exciting journey into our long history, rich cultural heritage and stunning landscapes," EU ambassador to China, Nicolas Chapuis, said at the exhibition.
"The EU has such a diverse culture, history, languages and landscapes that it is not easy to recommend only a few mustsee places."
Europe hosts half of the planet's UNESCO World Heritage Sites, a growing network of "European Capitals of Culture" and lots of intangible heritage yet to be discovered, he adds.
Chinese Premeir Li Keqiang and President of the European Commission Jean-Claude Juncker, declared 2018 the EU-China Tourism Year in July 2016. The year officially opened in Venice, Italy, on Jan 19.
A series of activities have been staged in China and the EU throughout the year to boost mutual tourism.
Weeklong exhibitions will be staged in Shandong province's Qingdao city and Shaanxi's provincial capital, Xi'an, to introduce Europe's heritage, attractions and towns. A social-media campaign will promote practical information and will include the How to Travel to Europe video series produced by the European Travel Commission.
Key opinion leaders will be invited to share their knowledge, and a quiz will be held.
The WeChat mini-program, Hidden Gems of Europe, introduces selected, little-known treasures in EU countries and serves as an index of the member countries' social-media tourism promotion.
The ECTY's closing event will take place in Xi'an on Nov 17 with a business-to-business matchmaking event and a major European cultural performance.
A number of initiatives have been organized by the EU under the ECTY umbrella to better understand Chinese preferences and provide enhanced experiences.
These include promoting relatively unknown destinations, organizing conferences and providing research.
Data from Ctrip, China's largest online travel agency, show Europe is the second-largest destination region chosen by Chinese tourists, after Asia.
Last year, 2.5 million Chinese filed EU visa applications, an increase of 15.9 percent compared with 2016, Chapuis says.
The number of nights Chinese tourists spent in the EU has more than tripled over the last 10 years to nearly 25 million in 2017.
"We are sure that the ECTY 2018 will further contribute to these growing figures," Chapuis says.