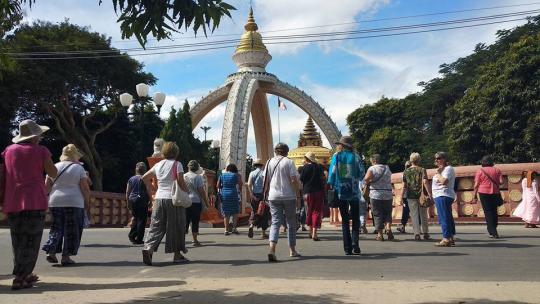 From January to July this year, the number of Chinese tourists increased by 34 per cent even though Myanmar has not implemented visa-on-arrival system for the Chinese, said Khin Than Win, Director-General of Department of Hotels and Tourism at an economic talk on tourism, according to the State-owned newspaper.
A tourist will be less inclined to visit a country if he or she has to take too much time and effort for visa application. Other countries have introduced visa exemptions for tourists, she added.
Myanmar will issue visa-free to tourists from Japan and South Korea after the Ministry of Hotels and Tourism holds discussions with respective ministers from both countries.
Ministry of Labour, Immigration and Population announced it would issue visa-on-arrival to the ordinary passport holders from China, Hong Kong and Macau.
The ministry will introduce more transparent and relaxed regulations some time in the future as some points still need to be negotiated.
"These policies will take effect as from October 1. Chinese citizens use charter flights to visit Myanmar as well as in their country. In addition, some visitors visit Myanmar by schedule flights. The visa-on-arrival for Chinese tourists and visa-free for Japan and South Korea is "Look East Policy", she added.
On October 1, Myanmar plans to welcome tourists at Yangon International Airport, Mandalay International Airport and Nay Pyi Taw Airport. In addition to "Look East Policy", Myanmar should practice "Look West Policy" to attract tourists from European countries, Myanmar Tourism Entrepreneurs Association suggested.