The number of Chinese arriving in Morocco in the first five months of this year reached 100,000 compared to 120,000 in all of 2017.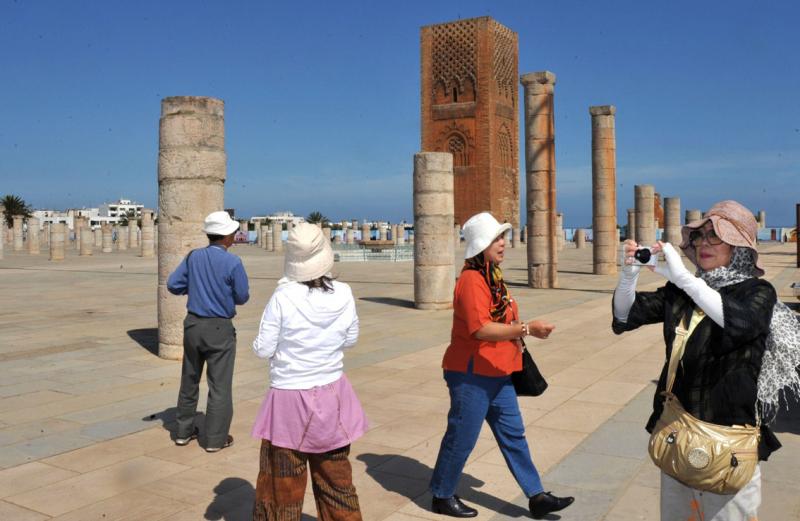 Tourists visit the Mausoleum of Mohamed V in Rabat.
More than 5 million tourists visited
Morocco
in the first half of 2018, an increase of 10% compared to the same period in 2017, the country's Tourism Observatory stated.
France topped the list with the highest number of tourists travelling to Morocco and China had the highest percentage increase in number of tourists visiting the North African country during the same time frame.
The number of Chinese arriving in Morocco in the first five months of this year reached 100,000, the Moroccan National Tourist Office stated, compared to 120,000 in all of 2017. Experts predict that figure to almost double in 2018.
Tourism receipts grew 15.2% to $3.3 billion in the first six months of the year, registering 500,000 more tourist arrivals and 1 million additional bed nights from the first half of 2017.
Tourism Observatory President Said Mouhid said the trend would allow Morocco to draw at least 1 million more tourists (12.3 million for 2018 against 11.3 million in 2017) and an additional 2 million bed nights (24 million against 22 million the previous year) this year compared to last.
The Tourism Ministry is seeking to attract 500,000 Chinese tourists by 2020 and the creation of a direct fight between Morocco and China was being considered by Moroccan carrier Royal Air Maroc.
Moroccan travel agencies are competing for a share of the huge Chinese market. A China-Morocco Tourism Forum last February in Casablanca promoted Morocco as a destination for Chinese tourists.
"The Chinese market has an immense potential as it has the world's highest number of millionaires," said Nabil Bekkali, manager of Elite Travel DMC, which serves mainly Hong Kong and Shanghai.
Cao Zilai, director of Colourful Morocco Travel, set up his travel agency after working for four years as an interpreter for the Chinese health delegation in Azilal in central Morocco.
Zilai said he mainly dealt with Chinese professionals in Morocco but, since the lifting of visas, he has been looking to woo high-end Chinese tourists.
"I offer tailored holiday packages for my wealthy clients besides dealing with business groups," said Zilai, adding that the Chinese were showing an increasing interest in Morocco.
"Since Morocco announced the visa exemption for Chinese citizens in June 2016, the number of Chinese tourists to Morocco has risen rapidly and the boom is not over yet," wrote China's official state-run press agency Xinhua.
"Morocco has abundant tourism resources, with long Atlantic and Mediterranean coastlines, deserts, snow-capped mountains, ancient cities and other exotic attractions," it added.
Chinese Ambassador to Morocco Li Li said China and Morocco would increase pragmatic cooperation in various fields, including tourism, this year when the countries mark the 60th anniversary of the establishment of diplomatic ties.