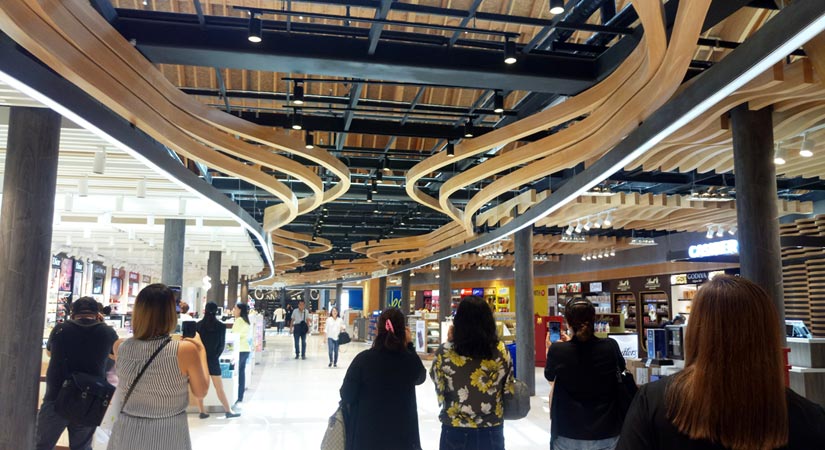 The newly opened Mactan-Cebu International Airport Terminal 2 offers a unique airport-resort experience. — MAYA PADILLO
THE OPERATOR of the Mactan-Cebu International Airport (MCIA) expects an influx of Chinese tourists in the third quarter, as airlines launch more flights to China.
In a statement, GMR-Megawide Cebu Airport Corp. (GMCAC) said four airlines started adding direct flights from MCIA to China last month.
GMCAC said Philippine Airlines (PAL) opened a Cebu-Nanjing route on July 9 and is set to double the number of its Cebu-Beijing flights to four times a week starting Sept. 1. Its subsidiary, PAL Express, also mounted charter flights to Hangzhou on July 6.
Budget carrier Cebu Pacific also launched twice weekly chartered flights to Beijing on July 16.
Philippines AirAsia opened a Cebu-Shanghai route on July 7.
China Eastern started flying from Cebu to Chengdu on July 2 and to Nanjing on July 25, both operated thrice weekly. For its Shanghai trips, the airline is replacing its A320 aircraft with the wider A330 from July 1 to Sept. 1.
"We are mindful of the fact that our traffic growth in Cebu will be driven to a greater extent by our visitors from China. As such we have taken various initiatives to prepare for this growth," GMCAC President Manuel Louie B. Ferrer said in the statement.
GMCA said MCIA signages translated in Mandarin, Korean, and Japanese at the airport to "ensure that all airport processes and directions are well understood by Chinese, Korean, and Japanese passengers."
GMCAC also asked the Department of Tourism to make videos showing airport processes and Cebu destinations. As these are targeted primarily to Chinese tourists, the videos were posted not only on Facebook, but also on WeChat, China's most dominant mobile application.
GMCAC said 5.76 million passengers were accommodated in MCIA during the January to June period. With eight airlines currently serving 10 destinations in mainland China, it expects that the target 11.2 million passengers would be reached by year's end.
PAL President Jaime J. Bautista told reporters last month the market of Chinese tourists is the company's highest in terms of percentage growth, noting it reached 50% at one time.
Cebu Pacific President Lance Y. Gokongwei noted in China there is "a lot of interest" in connecting to the Philippines. He said some of the 10 planes expected to be delivered next year will be used for additional flights to secondary cities in China.
"I think there's gonna be large opportunities to connect the secondary cities in China outside the Beijing, Guangzhou, and Shanghai," he told reporters late July.