The Hainan Airlines flight from Beijing is scheduled to run twice a week.
It is hoped the route will help attract thousands more Chinese tourists and students. It will also reduce the cost for Scots, who will be able to travel without connecting flights.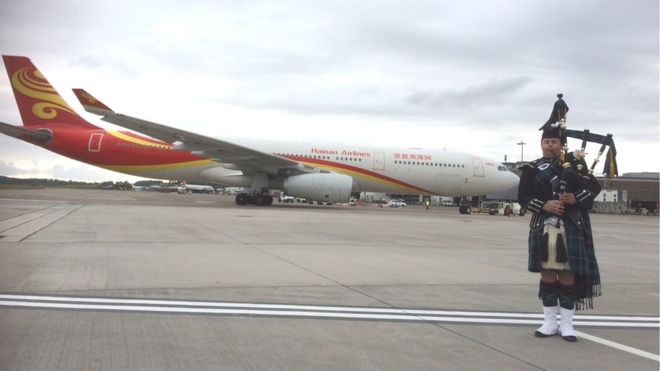 Chinese tourism has already contributed £26.5m to Edinburgh's economy.
Two further return flights between the two cities each week will go via Dublin.
Airbus A330-300 will fly from Beijing to Dublin and then onto Edinburgh and then back to Beijing on Thursdays and Sundays, flying to Edinburgh and then Dublin and then back to Beijing on Tuesdays and Saturdays.
Edinburgh's Lord Provost Frank Ross said: "This is the culmination of a lot of hard work by a number of organisations and it is fantastic for all of us to see the new flight schedule up and running.
"As the only Scottish city with a direct flight to China, the new route will provide Edinburgh with substantial outreach to Asia for tourism, business travel and investment opportunities.
"This will be supported by many across the retail, hotel and restaurant sectors through the city's innovative 'China Ready' campaign and I'm sure it will also be welcomed by Edinburgh's many business travellers and holidaymakers."
Fiona Hunter, Edinburgh-China Air-link project manager said: "Securing a global flight connection on this scale is hugely encouraging of the capital's position as an outstanding place to visit, live, work, study and invest.
"The flight path is the result of many years of hard work and is really just the start of the opportunity for Edinburgh. Based on our research we expect to see the number of flights increase quite significantly over the next few years, bringing with it even more investment and economic influence."
Gordon Robertson, communications director at Edinburgh Airport and chairman of Marketing Edinburgh, said: "Having direct connectivity to China will deliver a massive tourism boost for the city and country's economy and we're delighted to welcome the first flight to the capital today.
"This really is testament to the support and backing of our campaign and we're thrilled the work has paid off."