A direct air route opened between Xi'an, Northwest China's Shaanxi province, and London on Monday.
Tianjin Airlines operates the service every Monday and Friday using an Airbus A330.
The first flight, taking off at 3:15 pm from Xi'an Xianyang International Airport on Monday, one of the busiest airports in Northwest China, arrived at London's Heathrow Airport after a 11-hour journey.
The service is the airline's second China-UK route after it launched the Tianjin-Chongqing-London flight in June 2017, linking Beijing's neighboring megacity Tianjin and its southwestern counterpart Chongqing to Britain.
As the eastern departure point of the ancient Silk Road that connected Eurasia trade centuries ago, Xi'an, once called Chang'an in its imperial past as an ancient capital, is home to numerous historic relics, including the must-see Terracota Army, a World Heritage Site.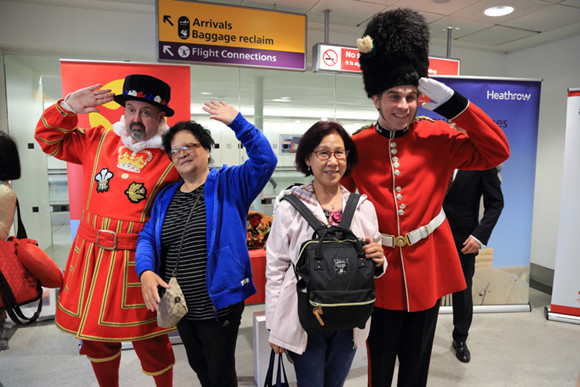 Visitors take photo with welcomers at London's Heathrow Airport, May 8. (Photo provided to chinadaily.com.cn)
The city, outperformed economically by its more affluent eastern peers, had long been ignored by airlines clogging eastern China's already busy airports.
But it's a different story now. The government has been trying to transform the less developed western region as part of the Belt and Road Initiative that focuses on connectivity and cooperation in economy, infrastructure, finance and trade.
The flight is the seventh direct air route linking Xi'an with Europe.