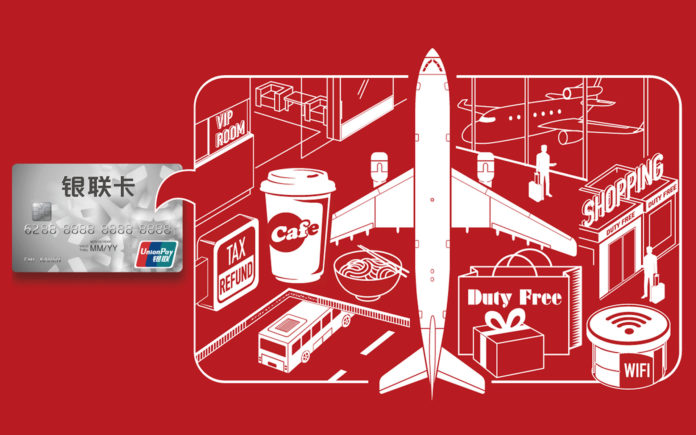 As UnionPay dominates Chinese tourists' card payments, it's now time to strengthen mobile payment offerings.
Payment-wise, it has never been a better time to be a Chinese tourist visiting the United States and Canada, at least according to UnionPay. Market penetration in the United States has now passed 80 percent among merchants, with withdrawals allowed at virtually any ATM across all 50 states. In Canada, UnionPay cards are now accepted at 90 percent of ATMs and across 100,000 merchants in the country.
UnionPay is on a roll: it broke a new transaction volume record during this year's Golden Week, and now it claims close to full penetration in markets where it has found itself under growing pressure from its mobile competitors Alipay and Wechat Pay. UnionPay's goal in these markets is primarily to facilitate Chinese tourist spending, as opposed to encouraging locals to adopt UnionPay cards.
IT'S NEVER BEEN EASIER TO MAKE PAYMENTS AS A GLOBAL CHINESE TRAVELER
While market penetration in the United States may be higher, it's in Canada where UnionPay can really take the battle against increasingly tourist-favored mobile payment options. Unlike in the U.S., UnionPay's Canada roll-out has included its QuickPass mobile payment service—which allows payments by both tapping cards and NFC-enabled smartphones.
The news of UnionPay's latest milestones in North America also coincided with an exclusive report by Reuters, which found that China is pressuring international competitors Mastercard and Visa to form joint ventures in China to be allowed market entry. At present, no overseas payments processor has been granted the necessary licenses to compete with UnionPay in China—making it a dominant player in the world by default.
The report adds credibility to President Trump's oft-repeated claim that China is pursuing mercantilist policies that are unjustly inflating the U.S. trade deficit with China.
In fact, the World Trade Organization ruled against China in 2012, concluding that the country is discriminating against non-Chinese payment processors. Regardless, UnionPay has continued growing as the number of debit and credit card transactions made in the country increases—propelling it to become second only to Visa in global market share.
WTO'S RULING HAS FALLEN ON DEAF EARS IN CHINA
Of course, the vastly different degrees of market access are further highlighted by UnionPay's report of achieving close to full market penetration in the United States, while U.S.-based competitors are unable to even try competing with UnionPay in China.
For the Chinese government, having all Chinese consumers' card transactions cleared by domestic companies such as UnionPay and Alibaba's Alipay also supports efforts to monitor Chinese spending on a global scale. The importance of this relative control has only become greater with Xi Jinping's intensifying anti-corruption campaign. Unfortunately for Visa and Mastercard, this means that the Chinese government will likely never be willing to open up access to the Chinese market.
MONITORING CHINESE TOURISTS' SHOPPING BEHAVIOR IS KEY IN THE ANTI-CORRUPTION CAMPAIGN
One thing is for certain: accepting UnionPay is no longer a forward-thinking innovation to attract Chinese tourists—Chinese tourists now expect it. Businesses who hope to delight Chinese customers with seamless payments may wish to look into rolling out mobile payments as well.
The same goes for UnionPay. With close to full market penetration already achieved, it needs to make sure that it takes on the competition where it still lags behind: in mobile payments.