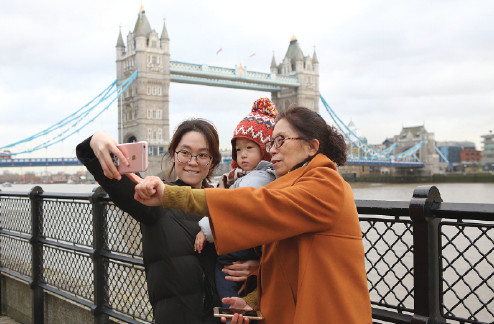 Three Chinese tourists pose for a selfie next to the River Thames in London.
The number of Chinese visitors to
Britain
soared in the first quarter of 2017.
According to VisitBritain, the official tourism body, a record 54,000 tourists from China visited in the first three months, a rise of 27 percent on the same period last year.
Britain also remains attractive to shoppers, with Chinese tourists spending a record 91 million pounds($117 million), also a rise of 27 percent.
Patricia Yates, a director at VisitBritain, said: "It is very encouraging to see such strong growth from some of our largest and most valuable markets... as well as markets that are important for our future, such as China."
And it looks as if many more Chinese visitors are planning to spend their summer in Britain. The latest data from travel consultancy Forward Keys shows flight bookings from China to the UK are 35 percent ahead of where they were last year for the July-to-September period.
Yates said: "With forward-bookings for international arrivals tracking ahead for the coming months, we are anticipating a strong summer holiday season as we promote the message of value and welcome globally, showing people why they should book a holiday to Britain right now."
Shopping is thought to be one of the biggest draws, with tourists taking advantage of a weak pound in the aftermath of the UK's decision to leave the European Union.
According to the UK tourism body, Chinese tourists spend longer and travel more widely in Britain than other international visitors. China moved into Britain's top 10 most valuable inbound markets for the first time in 2015.
Overall, VisitBritain said 8.3 million foreign holidaymakers visited the UK between January and March, a rise of 10 percent, with overall spending up by 16 percent to 4.4 billion pounds.
Tourism is worth 127 billion pounds annually to the UK economy and is a driver of job-creation and economic growth.