Aspen Snowmass received high praises from Chinese tour operators and ski clubs for a fam trip to Aspen
At the invitation of Aspen Skiing Company, Chinese tour operators and ski club participate in Aspen interantional fam trip during 7th to 12nd December, 2016.
It is the best time to ski in
Aspen Snowmass
located in Aspen, Colorado, with four mountains of Snowmass, Aspen Mountain, Aspen Highland and Buttermilk. Chinese tour operators and the representatives from ski clubs come all the way to Aspen Snowmass for an international fam trip during December 7 to 12, 2016. The tour was short, but the delegates achieved a lot.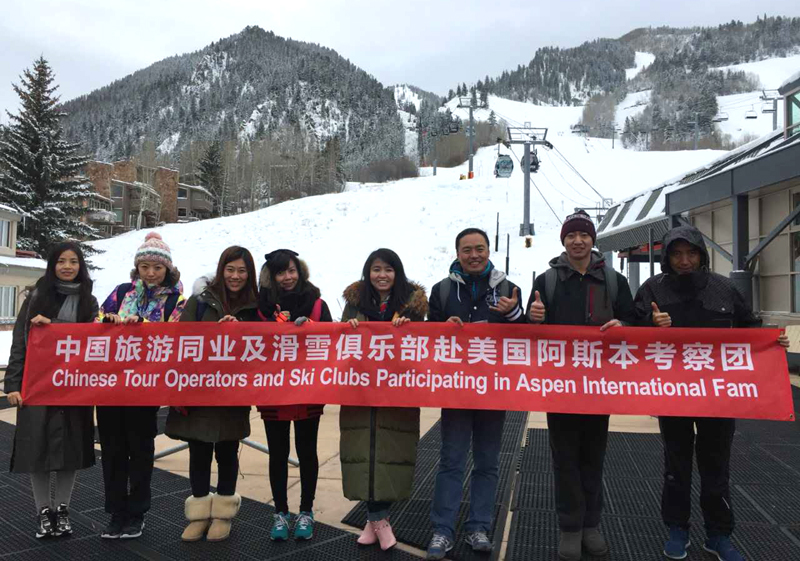 Group photo of Chinese tour operators and ski clubs for Aspen fam trip

Thanks for the excellent arrangement by Aspen Skiing Company(ASC) and the presentation of Mr Klaus Obermeyer, CEO of ASC, Chinese delegates has the great opportunities to know and even experience firsthand the infrastructures, courses, accommodation, foods and activities in Aspen Snowmass and its surroundings as well as ski freely or follow the world class instructors to learn Skiing. All of them promised that they will promote them to Chinese tourists when they come back to China.

Chinese tour operators and representatives from ski clubs enjoyed skiing in these fantastic resorts
For Chinese tourists, access to Aspen Snowmass and between all four mountains couldn't be easier with convent flights between Aspen and most of cities of US, and free and efficient bus system between four mountains. Besides skiing in winter, there are kinds of activities and events held in summer, Aspen Snowmass will provide the best experience to individuals, groups and families etc.
Comfortable accommodation and delious foods after skiing

Chinese delegates attended a special white party, who experience the enthusiasm from kinds of concerts and activities held in Aspen during the fam trip

Besides skiing, Kids could also enjoy the trip at the Treehouse Kids' Adventure Center

All of the Chinese delegates satisfied with this fam trip and the destination where will receive more and more Chinese visitors and skiing lovers. The fam trip was successfully concluded, but the tour of Skiing just begin. Let's go skiing in Aspen Snowmass during Chinese Spring Festival!
Related News in Chinese: