Sichuan International Travel Expo kicked in Leshan city of Sichuan province, China on September 22.
CBN Travel & MICE
and
World Travel Online
took this opportunity to promote lots of outbound tourism resources to Chinese tour operators.
Opening Ceremony of Sichuan International Travel Expo
With fantastic island scenery and rich culture,
Jamaica
is one of the best destination in Caribbean plus it exempted visa for Chinese tourists in recent years, thus it is highly recommended by CBN.
Dr. Adam WU, CEO of CBN Travel & MICE, recommended Mr. David L. Shields, General Manager at Island Routes Caribbean Adventures who was the Deputy Director of Tourism at
Jamaica Tourist Board
spearheaded the China initiatives to Jamaica, and Mr. Roy Page , CEO of
Caribic Vacations
to Mr Zhang Hui, Co-CEO of CITS Group, the biggest leading travel company in China.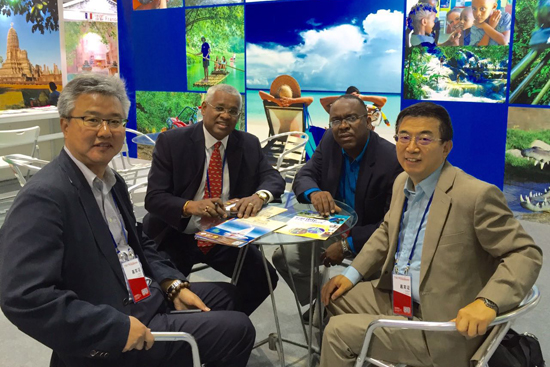 Mr Zhang Hui expressed that CITS would like to cooperate with Jamaica to bring more Chinese tourists to this beautifully country.