ITE & MICE this year was held successfully from June 16 to 19 at the Hong Kong Convention & Exhibition Centre, co-locating leisure and MICE travels, maintaining separate days for trade and public visitors, and highlighting travels for Affluent FIT and Themes.
A pioneer in international travel fairs to highlight Affluent FIT & Theme Travels for both the travel trade and travelers, ITE & MICE this year was held successfully from June 16 to 19 at Halls 1A to 1E of the Hong Kong Convention & Exhibition Centre!
It continued co-locating leisure and MICE travels, maintaining separate days for trade and public visitors, and highlighting travels for Affluent FIT and Themes such as Cruise, Driving Tour, Eco-tourism, Honeymoon & Overseas Wedding, Sport, Travel Photography and Wellness etc!
Officiating the opening this year were Mr. Gregory SO Kam-leung, GBS, JP, Secretary for Commerce and Economic Development Bureau of the Government of the HKSAR, and Ms Wu Yihuan, Vice Mayor of The Shenzhen Municipal People's Government.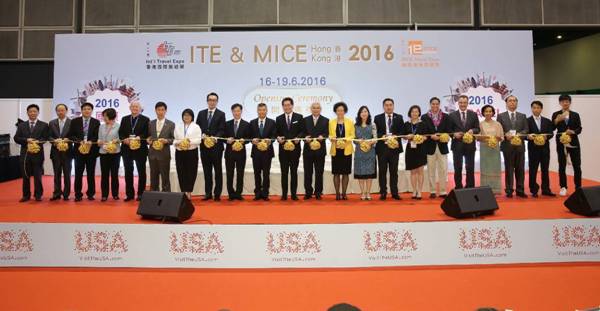 "Traveling in FIT is fast becoming popular in Asia especially among the affluent travelers, and it dominates source markets like Hong Kong! But our previous public visitor surveys found over 40% buy from travel agent FIT products particularly those on theme travels, and over 50% interested in joining tours at destination! ITE & MICE will continue serving both trade and public", said KS Tong, Managing Director of TKS which organizes ITE & MICE Hong Kong.
VISITORS ~ The Expo drew respectively in two trade days 12081 buyers and trade visitors from Hong Kong and neighboring areas, up 1.7%; and in two public days 87812 visitors, up 12.4%! Detail reports on visitors will be published in the following month.
EXHIBITORS ~ With an absolute majority of 86.3 percent of its 604 exhibitors coming from abroad and mainland China, ITE & MICE is essentially a "Principals' travel fair" where these overseas exhibitors meet directly regional trade, and affluent FIT from Hong Kong! Also, these overseas exhibitors are in best position providing details over wide area of a destination that are often require for theme and affluent FIT travels.
TRADE SEMINARS ~ There were, in the two trade days, over 20 seminars with topics covering travel trade, innovations in tourism, theme travels, MICE and corporate travels etc; Business Matching; Mart for Meeting Packages; and concurrent events such as the Trade Forum on "One Belt One Road" Opportunities for Travel Trade and Industry Award Presentation for Hotel Industry in neighboring regions each of which drew well over 100 attendants.
The more popular seminars in trade days include, for examples, "Destinations (Europe) Updates" with around 100 agents, and "The Myth of Low Cost Carrier" by the Association of Corporate Travel Executives (ACTE) which drew nearly 100 corporate travel managers.
HK OUTBOUND ~ ITE & MICE attracts affluent FIT from Hong Kong, who often speaks English and can travel to over 150 countries and regions without visa. Further, in 2015, Hong Kong was ranked Asia's 3rd largest source market by spending on international tourism despite having only 7.2 million people!
PUBLIC SEMINARS ~ Nearly 100 travel seminars were held in the public days, which were often well attended with the most popular drawing some 200 audiences. Seminar speakers included popular travel writers and hosts, celebrities, and specialists from exhibitors.
To facilitate visitors, these seminars were held in purpose built rooms located inside the exhibition halls. The great popularity of these seminars testifies the presence of large number of public visitors looking for travel ideas! Exhibitors can conduct retail sale in and only in public days, and some who made great offers drew good responses!
THEME DISPLAYS ~ Also highly attractive are, for examples, the special displays and demo stands on Sport and Eco tourism, overseas wedding, travel photography including 3D displays for free photo session, and a cross country driving club which regularly organized overseas driving tours for their members. They all are great meeting points for travelers sharing experiences.
TKS supports social responsibility and we provided assistance in ITE & MICE this year to UNESCO Hong Kong Chapter, and the two destinations of Nepal and Kumamoto Prefecture in Japan, both of which affected by earthquake in recent past.
The next ITE & MICE will be held from June 15 to 18, 2017 at HKECE, which will again be supported by the China National Tourism Administration, Hong Kong Tourism Board and Macao Government Tourism Office, etc.
For details please visit trade website of
www.itehk.com
. For enquiry, please contact the Organizer - TKS by email to
travel@tkshk.com
or fax to (852) 3520 1500.
Participating Countries / Regions in 2016
ARMENIA

FINLAND

ITALY
MEXICO

SPAIN,

Andalucia

AUSTRALIA

FRANCE

ITALY

,

Sicilia

MONGOLIA,

Ulaanbaatar

SRI LANKA

AZERBAIJAN

GEORGIA

JAPAN

MYANMAR

SWITZERLAND

BHUTAN

GREECE

KAZAKHSTAN

NEPAL
TAIWAN
CAMBODIA

GUAM

KOREA

RUSSIA

THAILAND

CANADA

HONG KONG

MACAU
SEYCHELLES
TURKEY
CHINA

ICELAND

MALAYSIA,

Penang

SINGAPORE

UNITED KINGDOM

CROATIA

INDIA

MALAYSIA,

Sabah

SLOVAKIA
USA

CROATIA,

Zagreb

INDONESIA

MALTA

SOLOMON ISLANDS

USA,

Hawaii

CYPRUS

IRAN

MAURITIUS

SOUTH AFRICA

VIETNAM
NOTES:
Official Pavilions / Stands in Bold;
Country/Region appearing twice or more if there are separate official stands
Issued by:
TKS Exhibition Services Ltd |Unit 3703B, 148 Electric Road, North Point, Hong Kong.