FITUR, the UNWTO and Casa áfrica gain the support of the Spanish Confederation of Travel Agents for the promotion and dissemination of INVESTOUR 2016
The INVESTOUR will hold its next event on 21 January 2016 as part of FITUR.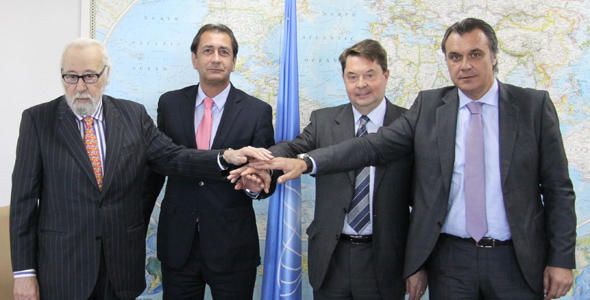 7 October 2015 saw the signing at the UNWTO headquarters of the collaboration agreement between the three organising bodies of INVESTOUR –IFEMA/
FITUR
, UNWTO and CASA AFRICA- and the CEAV, Spanish Confederation of Travel Agents, whose contribution is directed at supporting the Forum's dissemination and exposure and on providing advice for undertaking activities that contribute to the promotion of this event as an annual platform for dialogue in the internationalisation of Spanish companies, in this case those in the travel agencies sector, in tourism projects developed in Africa.
The agreement envisages the CEAV's commitment to disseminating and raising awareness of the INVESTOUR 2016 event among its members through seminars, workshops, conferences and other promotional activities and to encouraging their participation in the forum. It will enable the more than 3,000 retailers and wholesalers who form part of the 19 business associations making up the Confederation to learn first-hand about the potential that the African continent offers the tourism market and thus evaluate their business and investment possibilities.
Ever since it was founded, INVESTOUR has consolidated its position as an indispensable meeting point at which to showcase the opportunities for tourism cooperation and investment in Africa, in a quest to transform tourism into a dynamising force behind its economy and to favour the region's sustainable development. The forum is increasingly attracting the endorsement of the country's most representative business institutions, which are now joined by the CEAV after the agreement signed today.
At its last staging, the Tourism Investment and Business Forum for Africa attracted 306 participants from 42 countries, 17 ministers from Africa and the Middle East, 40 Spanish and 10 international (non-African) organisations and companies and 150 African projects (of which 70 were Spanish).
Favoured by these positive participation figures, the seventh INVESTOUR Africa – which is due to be staged on 21 January as part of FITUR – will repeat its format of round tables for exchanging knowledge and experiences, plus B2B meetings with personal, pre-scheduled appointments between businesspeople from the African tourism industry and Spanish and international operators and potential partners who are interested in investing in that continent.