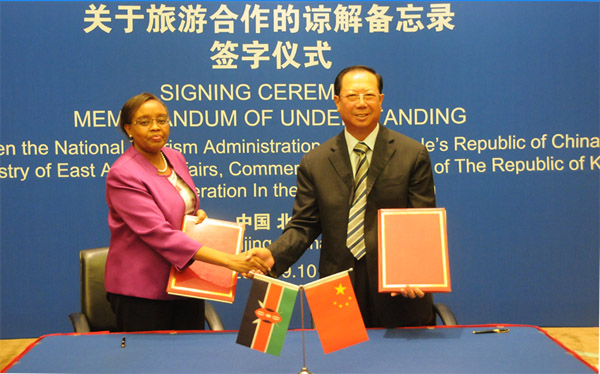 On September 10, the signing ceremony of the Memorandum of Understanding on Tourism Cooperation between CNTA and the Kenyan Ministry of East African Affairs, Commerce and Tourism was held in Beijing. Wang Zhifa, Vice Chairman of CNTA, and Phylis Kandie, Minister of East African Affairs, Commerce and Tourism of Kenya, signed the Memorandum of Understanding (MOU) on behalf of each side.
According to the MOU, the two sides will carry out long-term and consistent cooperation on the principle of equality, mutual benefit and mutual respect to sovereignty. The scope of cooperation includes exchange projects, marketing and promotion, sustainable tourism development, tourism investment and other cooperation areas agreed by both sides.
Before the signing ceremony, Vice Chairman Wang held talks with Phylis Kandie and her delegation. He said that strengthening the tourism communication and cooperation and expanding bilateral personnel exchange between China and Kenya is a consensus reached by the state leaders of both countries. The signing of the MOU is the outcome of the joint efforts and pragmatic cooperation between the Chinese and Kenyan tourism authorities, and is bound to push China-Kenya tourism exchange to a higher level.
Phylis Kandie said that the signing of the MOU will facilitate the tourism communication and cooperation between China and Kenya. According to the MOU, Kenya will work more closely with Chinese tourism authorities and industry to attract more Chinese tourists and enterprises to travel and invest in Kenya.
Heads of relevant CNTA departments and Kenyan ambassador to China were present at those activities.