Recently, data from Chinese large tour agencies show that the bookings for South America tourism have increased significantly. Large tour agencies launch chartered boat for South America one after another. Therefore,
Turismo Chile
takes the opportunity to promote in China and held
the 3rd Chile Tourism Webinar
by cooperated with
World Travel Online
again. The training program divided into two sessions, with first sessions launching on July 2nd and 4th , providing an exclusive learning opportunity for Chinese counterparts for free, and the second session to be held on July 12th .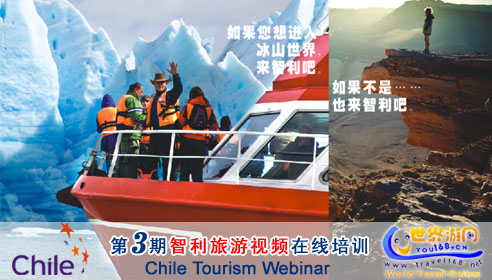 Last year, two webinars have been held successfully and received highly praise. This time, the video content and website display have been upgraded, and attracted even more people. More than 350 tourism counterparts, who have managed to participate in the program from the busy tourist rush season, including CAISSA Touristic, Beijing Jinjiang International Travel, FASCO, Guangdong CYTS, as well as those senior travelers who want to accumulate information for their self-guided tour.

"Chile is the longest county in the world, obtaining the most complete archaeological landscapes." said Mr. Juan López, China Market Manager of Turismo Chile. He also gave 5 reasons "why Chinese would visit Chile" in his address.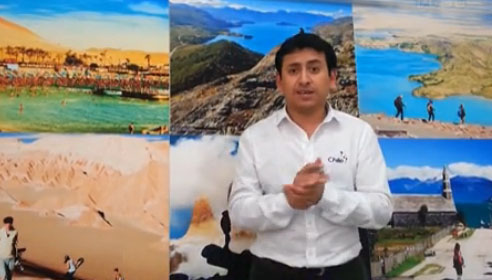 Mr. Juan López, China Market Manager of Turismo Chile, gave Welcoming Speech
The Webinar began with an interview of Zhang Jinpeng, a Chinese tourism hot talent, he said, "I am in Chile, how about you?" The training divided into three parts, they are humanity, history and flight information of Chile, Chile's five districts, tourism projects and facilities of Chile respectively. It helps Chinese counterparts fully understand Chile's tourism and commercial resources, product selling points and distinctive activities, as well as flight and visa information, providing them with professional knowledge and skills to make promotion in China and operate Chilean tourism.
The tour operators speak highly of the Webinar after the training. Ms Li Li, Training Manager of Liao Ning Comfort International Travel Service, the winner of interactive questions section, commended that "The webinar is really a good way to learn Chile, the content is very substantial, and the time is flexible. As a training manager, I registered for the event as soon as I knew it."

Ms Yu Xiaohong, Vice General Manager of Shanghai FASCO International Tour & Travel, said that: "We always take an active part in the events hosted by World Travel Online as we think these events are very useful. We attended the webinar last year and it is very helpful. So we organized our staff to register for the event when we hear the news. We look forward to getting more product information in the future.
Related News in Chinese: