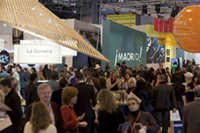 FITUR
will host the staging of a trade conference, organized in collaboration with Chic Outlet Shopping®, devoted to this up-andcoming segment.
Madrid and Barcelona, which occupy second place in the ranking of favourite European destinations for shopping trips, will present their opportunities under this heading within the framework of the fair.
Shopping is becoming an increasingly frequent reason for tourists to undertake trips to different destinations. In this respect, the shoppingbased tourism segment is coming to play an increasingly important role within the industry, given that it attracts travellers who have a pre-disposed willingness to spend money. In addition,
Spain
is one of the leading destinations for tourists of this kind, given that, according to the Globe Shopper City Index-Europe Ranking published by the Economist Intelligence Unit (a section of the publication, The Economist, which is devoted to research), Madrid and Barcelona occupy second place among the Europe's favourite cities for shopping, behind London. In this respect, these two cities, together with the many other destinations taking part at the fair, will make the very most of the trade forum offered by FITUR in order to present the appealing aspects that make them leading shopping destinations. Furthermore, at the year 2012 edition of FITUR, to be staged from 18 to 22 January, visitors will come across a number of ideas presented by companies like Chic Outlet Shopping®, that have created a leisure concept based on shopping, bringing together many of the brands that tourists are looking for within a single venue.
Chic Outlet Shopping® also organizes, on Thursday 19th January and among the activities schedule at FITUR 2012, a conference aimed at tourism professionals and dedicated to deepen and provide new features to the sector. In this sense, shopping-based tourism will play a starring role at the FITUR exhibition, which brings together more than ten thousand companies from 166 countries and regions from all sectors within the travel industry.
Related News in Chinese:

2012西班牙国际旅游交易会开启购物旅游新时代