Wealthy Chinese tourists have gone on a major Christmas shopping spree in London and have been dubbed "Peking Pound"
Wealthy Chinese tourists are expected to spend a billion pounds on luxury goods during the sales, it emerged yesterday.

The booming 'Peking Pound' has accounted for almost a third of post-Christmas purchases of high end goods such as Burberry, Mulberry, Louis Vuitton and Gucci.

Many West End stores have appointed assistants who speak Mandarin to help cash in on the massive new market.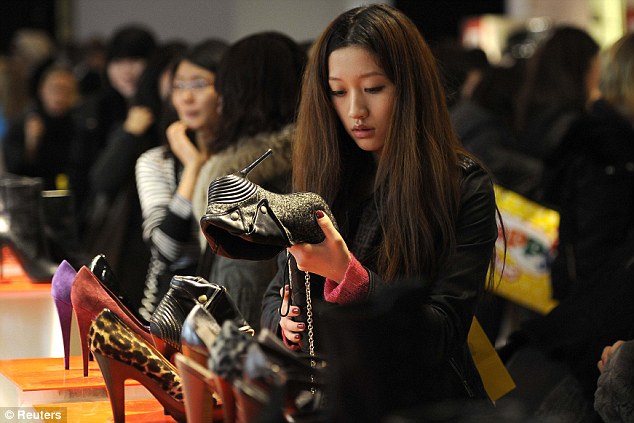 Frenzy: The 'Peking Pound' has accounted for almost a third of the money
spent during the Christmas sales, with Selfridges processing
10,000 transactions per hour

Selfridges has started taking China UnionPay cards – the only domestic credit card available in China – to accommodate the upsurge.

The second purchase in the Boxing Day sale at the Oxford Street department store was made on one of the cards and was worth £1,200.

Selfridges went on to process 10,000 transactions an hour, boosting trade by 40 per cent on last year, with one onlooker describing the scene inside as looking like the 'Great Mall of China'.

Retail analyst Jonathan De Mello, from the CB Richard Ellis consultancy, said Chinese shoppers have taken over from Russians and Arabs as the biggest spenders on luxury items in Britain.

"Like anyone, they enjoy getting a bargain so the post-Christmas sales are inevitably an especially busy period," he added.

"China's rapidly-growing economy has generated a vast new market for luxury goods. But the high taxes levied on imported Western goods in China makes purchasing these products in Britain 20 to 30 per cent cheaper for them. They are also attracted by the cachet of buying a luxury item from its country of origin. "

"It's often a kind of one-upmanship among friends or colleagues to get a Burberry or Mulberry item from Britain.Visitors from China are usually on very structured tours which have fixed times for shopping in certain areas, which in almost all cases means the stores in London's West End. It is now a huge market for stores in Mayfair, Knightsbridge and Piccadilly. Christmas holds no special cultural significance for most Chinese, so it is no hardship to be away from families during this time of year and instead go on a shopping trip to London."

He said Chinese buyers now account for about 30 per cent of the luxury goods market in Britain, followed by Russians, Arabs and Japanese, with British shoppers making up only around 15 per cent of the purchases.

Luxury fashion house Burberry says Chinese shoppers make up nearly a third of the customers in its London stores, helping to boost sales by more than a fifth in 2010.

Mulberry says the Chinese are the fastest-growing group of customers for its luxury fashion goods.

Nearly two and a half million Chinese people visited western Europe this year, which was up a fifth on 2009, and the amount they spent almost doubled, according to figures from consulting firm Tourism Economics and shopping specialists Global Blue. Over the past two years the value of the pound has fallen by around 30 per cent against the Chinese yuan.

China's growing economy has led to the number of U.S. dollar billionaires in the country leaping from one in 1999 to 130 last year.

Huge crowds continued to flood shops yesterday on the third day of the sales.At Westfield Shopping Centre in West London 50 shoppers at a time were queuing to get into the Louis Vuitton store after security guards imposed a 'two in, two out' rule because of the crowds. Vast numbers were also out in Newcastle upon Tyne.

Relevant news in Chinese:
中国游客圣诞在英国消费10亿英镑 被称为"Gucci一族"