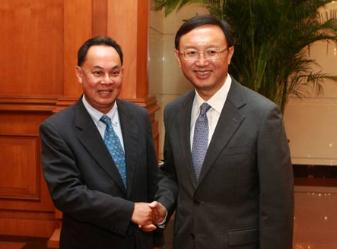 Chinese Foreign Minister Yang Jiechi (R) shakes hands with his Thai counterpart Kasit Piromya during their meeting in Beijing, capital of China, on June 10, 2009.


Chinese Foreign Minister Yang Jiechi on Wednesday pledged to enhance strategic cooperation with Thailand.

"We will work with Thailand to achieve win-win results and joint development," Yang said in talks with his Thai counterpart Kasit Piromya.

Yang said the two nations enjoy good relationship, with high degree of mutual political trust, sound cooperation in various fields, and close coordination in international and regional affairs.

The growth of China-Thailand relations have brought tangible interests for the two nations and the two peoples, and also helped regional peace, stability and prosperity, he said.

Echoing Yang, Kasit said the two nations enjoyed profound traditional friendship, and maintained healthy and stable development of bilateral ties.

Thailand would, as always, continue promoting friendship with China, and enhancing cooperation between the two sides in various sectors, Kasit noted.

Kasit was here on an official visit from June 10 to 11 at the invitation of Yang.