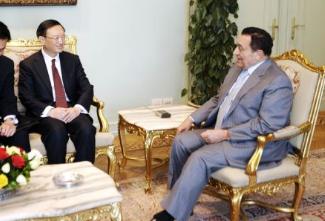 Egyptian President Hosni Mubarak (R) holds a talk with Chinese Foreign Minister Yang Jiechi in the Presidential House in Cairo, capital of Egypt, April 22, 2009


Egyptian President Hosni Mubarak held talks Wednesday with visiting Chinese Foreign Minister Yang Jiechi, during which both sides vowed to make joint efforts to boost bilateral relations.

Mubarak said he has attached great importance to Egyptian-Sino relations since 1976 when he visited China for the first time, adding that he has made friends with Chinese leaders during his visits to the eastern Asian country.

Egypt and China have witnessed smooth progress in their cooperation in various areas, the president said, noting that Egypt is willing to strengthen the ties with China in light of the current international atmosphere.

Egypt is willing to strengthen friendly ties and mutually-beneficial cooperation with China so as to play a positive role in international and regional affairs and advance the Middle East peace process, he added.

Yang said since China and Egypt established strategic cooperation relations in 1999, the two countries have expanded political mutual trust, economic cooperation and cultural exchanges.

China is willing to promote the strategic ties with Egypt on the occasion of the 10th anniversary, the Chinese foreign minister said.

China appreciates Egypt's efforts in the Mideast peace process and is willing to play a constructive role, together with Egypt, in forging a comprehensive, impartial and durable peace across the region, Yang added.

The top Chinese diplomat who arrived in Egypt on Tuesday has talked with his Egyptian counterpart Ahmed Abul Gheit and the Cairo-based Arab League (AL) Secretary General Amr Moussa respectively on bilateral ties and means of boosting the Mideast peace process.

Yang is on a five-leg visit which would also take him to the Palestinian territories, Israel, Syria and Russia.